Dacha's Live Sets
On this page you'll find my DJ sets which are recorded while I was playing Live at my favorite clubs and venues. I was resident DJ for many years, and I used to play 4 nights weekly in legendary club Contrast and I have had resident night at Paradiso discotheque in Novi Sad. However, Lounge Cafe happened to be last place where I did my last weekly DJ sessions before I moved to New York City. Every set has different vibe and it's worth listening and downloading. It's 99% house music with big influence of Jazz, Nu-Jazz, Soul, Funk and Afro-Latin rhythms and elements.
Category: Live DJ sets
Hits: 4592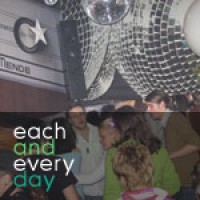 Some music is good for the night some for the day and some for every moment. I tried to mix this one for the day after clubbing... Can't tell too much, you have to listent to and see if it's your stuff. These are some great artists that I mixed on it: Dubtribe Sound System, Jay-J, Lisa Shaw, Soul Music, Karizma, Inner Soul, Halo feat Atwater, Advantage Player, Funky Green Dogs, Franck Roger, Kiki Navaro, Johnny Fiasco, Miguel Migs, Modern Quartet, Aroma Allstars...