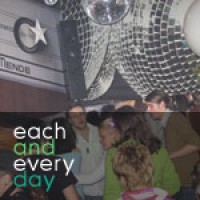 Some music is good for the night some for the day and some for every moment. I tried to mix this one for the day after clubbing... Can't tell too much, you have to listent to and see if it's your stuff. These are some great artists that I mixed on it: Dubtribe Sound System, Jay-J, Lisa Shaw, Soul Music, Karizma, Inner Soul, Halo feat Atwater, Advantage Player, Funky Green Dogs, Franck Roger, Kiki Navaro, Johnny Fiasco, Miguel Migs, Modern Quartet, Aroma Allstars...
01 DUBTRIBE SOUND SYSTEM - Nothing Is Impossible (Dennis Ferrer Club Mix) [DEFECTED]
02 JAY-J feat LIL KIM - The Jump Off (Vocal Mix) [WHITE LABEL]
03 SAM & GIGI - Bau Au (New Version) [STILL MUSIC]
04 LISA SHAW - Cherry (Miguel Migs Salted Vocal Remix) [NAKED]
05 SOLU MUSIC feat KAI MARTIN - It Ain't Love (Joey Youngman mix) [SOLU MUSIC]
06 KARIZMA - Music (Rotgut Remix) [ROTGUT]
07 INNER SOUL - Support Your DJ (Vocal Mix) [CLONE]
08 HALO feat ATWATER & Mr. V. - Change [LARGE]
09 ADVANTAGE PLAYER - Blazin (Deep Mix) [SOUND CONSORTIUM]
10 FUNKY GREEN DOGS - Reach For Me (MOD Remix) [PROMO]
11 JUSTIN MICHAEL feat JACKIE WILSON - Ready 4 More (Richard's Re-Tweaked Vocal) [DUFFNOTE]
12 FRANCK ROGER feat MANDEL TURNER - Celebrate (Vocal) [BETINO'S RECORDS SHOP]
13 MAXINE INNISS - I Appreciate [JELLYBEAN]
14 CRICCO CASTELLI - The Bump [ILLEGAL BEATS]
15 KEVIN YOST - Falling Down []
16 MATEO & MATOS - Something I Wanna Say [LARGE]
17 CHUCK LOVE - Set Me Free (Deep Mix) [VISTA]
18 JOHNNY FIASCO - Salsanova (Original) [AGAVE]
19 MIGUEL MIGS - Check This Out [SALTED]
20 MOD - Movin Constructions [MOD PRODUCTIONS]
21 JAMIE LEWIS & NICK MORRIS - Catch The Funk [CNF]
22 KIKO NAVARRO feat. MARCEL - Music (Danny Marquez & Ferry B Mix) [BUBBLE SOUL]
23 KOFFE BROWN - After Party (Where Da Party At Jay J & David Harness Edit) [CONNECTED]
24 AROMA ALLSTARS - Episodes In Jazz (Swirl People Rmx) [AROMA]
25 BROWN & STEVE LITTLEMEN - Foolin' Around (Browns Vocal Dub) [MOBILE TRAX]
26 MAGIK JOHNSON feat SANDY MILL - Follow The Groove (Original_mix) [NRK]
27 MODERN QUARTET - Jazzonized (Danylo's House Mix) [PROMO]
27 CHUCK LOVE - El Divorcee [SALTED]
28 GROOVE JUNKIES feat SOLARA - Just Groovin (Deep Down Og Mix) [AGAVE]
29 ANDRE HARRIS - Get Down Africa (Dub Mix) [LARGE]
30 MATEO & MATOS - Akara (Karol XVII Mix) [PROG CITY DEEP]
31 DAVISDOSN OSPINA - Dig This (Chronicles Sax Mix) [BIG LOVE]
32 JOHNNY FIASCO feat JACKIE - All Right (Original Mix) [TONIC]
33 MOJO PROJECT - Tell Me Why (Kiko Navarro Funk Exploion) [LOVEMONK]
34 SHIK STYLKO - House The Joint (Original Mix) [99 CARAT]
35 DEEPGROOVE - Jus Luv Piano [KINKY VINYL]
36 JOEY NEGRO pres AKABU - The Way (Miguel Migs Mix) [NRK]
37 CHUS & CEBALLOS feat DEREK CONYER - Wrong About Me (Dave Storm Mix) [STEREO COOL]
38 ROBIN - Love Me (Ralphi's Big Chunk O' Love Mix) [PROMO]
39 JOHNNY FIASCO - Twilight [AGAVE]
40 DA SUNLOUNGE - Baby How Long (Johnny Fiasco ReEdit) [DOUBLEDOWN]
41 LOVE BOX feat NADEEN HOLLOWAY - Love You More Everyday (Morten Trust Mix) [ROYAL PLASTIC]
42 PHYSICS - The Most Beautiful Boy In Brazil (Playmaker Remix) [DEEPLAY]
43 LENNY FONTANA pres OCTAHVIA - The Way (Chus And Penn Club Mix) [DEFECTED]
44 CHUCK DANIELS - Dont Be A Blockhead [OOMPH]
45 BIG SEXY feat PETER FUNK & KEVIN YOST - Involved [I RECORDS]
46 D'STEPHANIE - If We (Original Mix) [REALISTIC TRAX]
47 FUDGE - Ponta Negra [KIF]
About this DJ mix / legal statement >>> All songs in this DJ mix are copyright of their respective owners. If you are one of these owners just contact us, and tell us if you want to be removed. This DJ mix is placed online without any commercial purpose but in favor of all true music lovers. It's all about top House music production. Download and 'Njoy!