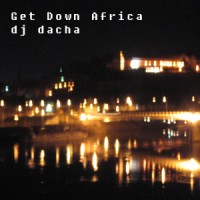 We enjoyed this time all night in deepest and funkiest cutz, all from my collection with extra afro rhythm influence, and luckily for you & me everything is recorded as it should. Jazzy, Funky, Afro, Deep house music: Paulo Rocha, Hanna Hais, Fanatix, Interns, Justin Michael, Mambana, Shik Stylko, Natasha Lew, Koffe Brown, Andre Harris, Rhythm Slaves, Davidson Ospina, DJ Spen, John Cutler, King Britt, Oba Funke...
01 DEEP HOUSE SOULDIERS - In My Bag (Original) [LOWDOWN]
02 PAULO ROCHA - Takedown [BLACK VINYL]
03 SAM & GIGI - Bau Au (Original Mix) [STILL MUSIC]
04 GEOFFREY WILLIAMS - Somewhere On A Beach (Phil Ashers Restless Soul Mix) [OYSTER]
05 HANNA HAIS - Parfum Chic (Matty's Soulflower Mix)
06 HALO & SIDE STREET PLAYERS feat MAYA - This Love (Full Vocal Mix) [CITY DEEP]
07 ATELEWO feat OSUNLADE - New Day (Quentin Harris Remix) [SEAMLESS]
08 FANATIX feat KELE LE ROC - Lesson Learned (Original Mix) [OSIRIS]
09 JAFROSAX feat VIKTER DUPLAIX - In The Morning (Jazztronik Re-Edit) [PANTONE MUSIC]
10 INTERNS feat SNOWBOY - Its About Time [CHILLI FUNK]
11 JUSTIN MICHAEL feat JACKIE WILSON - Ready 4 More (Richard's Dub) [DUFFNOTE]
12 FINGERS feat VIVIANE CRUZ - Girassol (Agora Rhythm Sunflower Vocal Mix) [IRMA CASA]
13 EAST WEST CONNECTION feat DANIEL VACCHIO - High On Life [CHILLI FUNK]
14 BLVD EAST & LOUIE LOU GORBEA feat OSUALDO BEMBESITO LORA - A Journey Into [COCO SOUL]
15 CHUCK LOVE - Soul Symphony (Original Mix) [OM RECORDS]
16 FRED EVERYTHING - Soulmates [OM]
17 MOD - Turn Me Loose [PROMO]
18 ANDRE HARRIS - Get Down Africa (Main Mix) [LARGE]
19 RHYTHM SLAVES - Music In My Soul (Copyright Mix) [KNEE DEEP]
20 KING UNIQUE - Love Is What You Need (Knee Deep Classic Club Mix) [DEFECTED]
21 REESE PROJECT FEAT PAUL RANDOLPH - This Means That (Bobby & Steve Vocal Sax's Mix) [SU SU]
22 PATRICK TURNER - Only The High [AGAVE]
23 MAMBANA - Felicidad (Rasmus Faber Remix) [SOULFURIC]
24 JOHNNY FIASCO feat JACKIE - All Right (Double Dub Rerub) [TONIC]
25 SHIK STYLKO - House The Joint (Original Mix) [99 CARAT]
26 DAVISDOSN OSPINA - Dig This (Chronicles Sax Mix) [BIG LOVE]
27 DAVIDSON OSPINA feat HENDERSON - Imagine Music (Funky Mix) [SOUND DIVISION]
28 SHIK STYLKO and D'STEPHANIE feat MELISSA - Wont Fall (Shik Stylkoe Vocal) [PROMO]
29 NATASHA LEW - Special Love (JohnnyC Flowers Dub) [MIX 2 INSIDE]
30 DJ SPEN & THE MUTHAFUNKAZ - Holy Ghost (The Holy Hudge Dub) [CODE RED]
31 MADRID DE LOS AUSTRIAS - Mas Amor (Scientific Soul Ritmo Mix) [SUNSHINE ENTERPREISE]
32 FRESH & LOW - Universal [ELEVATION RECORDINGS]
33 KOFFE BROWN - After Party (Where Da Party At Jay J & David Harness Edit) [CONNECTED]
34 FRANC ROGER feat MANDEL TURNER - Celebrate (Vocal)
35 SHAHEER WILLIAMS feat STEPHANIE COOKE - Show Me (Fanatix Vocal Mix) [SOUL GROOVE]
36 MOJO PROJECT - Tell Me Why (Kiko Navarro Funk Exploion) [LOVEMONK]
37 SHAHEER WILLIAMS feat STEPHANIE COOKE - Show Me (Repriese) [SOUL GROOVE]
38 ANDRE HARRIS - Get Down Africa (Main Mix) [LARGE]
39 SUMO feat RIGAS - Tribute (Original Mix) [HEYA HIFI]
40 ALUMINA - Simple Simplimental [RADIANCE]
41 AWAKENING - Take Me Now (Bah Samba Acoustic Mix) [SU SU]
42 FUNKY GREEN DOGS - Reach For Me (MOD Remix) [PROMO]
43 JOHN CUTLER - You're Not Alone [PROMO]
44 KING BRITT pres OBA FUNKE - Uzoamaka [DEFECTED]
45 GRANT NELSON - Je Suis Ta Drogue (Epic Club Mix) [WYZE]
About this DJ mix / legal statement >>> All songs in this DJ mix are copyright of their respective owners. If you are one of these owners just contact us, and tell us if you want to be removed. This DJ mix is placed online without any commercial purpose but in favor of all true music lovers. It's all about top House music production. Download and 'Njoy!