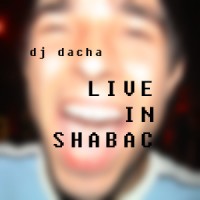 Here we have one live DJ set that I played (and luckily recorded) at one of my favorite outdoor gigs at Šabacki Letnji Festival in Serbia 2005. It was a beautiful summer night and we cooked one great party for great Šabac's party people and househeadz. I remember that we were drinking and laughing, and I was also mixing like crazy, only hits. If you're looking for a good party DJ mix, this one is for you. I would rate it as "tastefully commercial". It's happy, funky, uplifting, disco, latin house, techy party DJ mix. Check out track list for artists and tracks.
01 SOUND NAVIGATORS - Down On It (Original Mix) [BLOCKHEAD]
02 JAMIE LEWIS & NICK MORRIS - Catch The Funk [CNF]
03 KRAAK & SMAAK - Set Fire To The Disco [JALAPENO]
04 THE COFFEE KIDZ - Dangerous Frequencies (Vocal Mix) [MN2S]
05 BOBBY BLANCO & MIKI MOTO - Black sugar (Original Mix) [DEFECTED]
06 PHYSICS - Viva L'amore (Grant Nelson Remix) [PROMO]
07 SHIK STYLKO and D'STEPHANIE feat MELISSA - Wont Fall (Shik Stylkoe Vocal) [PROMO]
08 BELEZAMUSICA - U Got Me Spinning (Seamus Haji Mix) [SOULLOVE]
09 SOULMAGIC - Yah Yah (Original Mix) [SOULFURIC DEEP]
10 AFRICANISM ALL STARS - Summer Moon (Original Club Mix) [YELLOW]
11 ROBERT CHETCUTI and DANNY S - In The Sunshine (Original Mix) [PURE DOPE]
12 CRICCO CASTELLI - La Casa Del Jazz (KTA Mix) [SOULFURIC DEEP]
13 BRAND NEW HEAVIES - Surrender (Grant Nelson Club) [ONE TWO]
14 ANTHONY ACID feat RUBY - Sweat (Soul Avengez Remix) [PROMO]
15 CAROUSEL feat KRYSTEN CUMMINGS - Wanted (Latino Dub Mix) [SOULFURIC TRAX]
16 APARTMENT 20 - B With U (Christian Hornbostel Rocka Rolla Remix) [ONE NIGHT]
17 HAVANA FUNK - Bakiri Ban (Club Mix) [DEFECTED]
18 COPYRIGHT - Mateo Grasso [WHITE]
19 RASMUS FABER feat MELO - Get Over Here (Remix) [FARPLANE]
20 DJ MEME pres MANDELA - Viva (DJ Memes Peakhour Dub) [KNEE DEEP]
21 PENN & JABATO - Delicioso (A mix) [URBANA]
22 DAVID FERRERO - That's My Boo [WEEKEND]
23 MATEO & MATOS - Akara (Karol XVII Mix) [PROG CITY DEEP]
24 MAGIK JOHNSON - Follow The Groove (Original Mix)
25 HIPP-E - House Stompin [DETOUR RECORDINGS]
26 DAVIDSON OSPINA feat HENDERSON - Imagine Music (Funky Mix) [SOUND DIVISION]
28 RSL - The Mast [ITH RECORDS]
29 SEMINAL GROOVES - Keep Me Up (Seminal Vocal Mix) [DEVICE]
About this DJ mix / legal statement >>> All songs in this DJ mix are copyright of their respective owners. If you are one of these owners just contact us, and tell us if you want to be removed. This DJ mix is placed online without any commercial purpose but in favor of all true music lovers. It's all about top House music production. Download and 'Njoy!