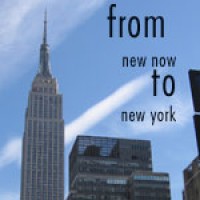 As I was planning my trip to NewYork from NewNow (Novi Sad), I was already playing some harder and darker house tracks, but also my good old deep & latin vibes with some sharp disco & funky house... later through the night... So crowd got hit with some new and some older names and tracks, check it out: Osunlade, Anane, Mr V, Louie Gorbea, The Rurals, Inner Soul, Davidson Ospina, Towa Tei, Polyphonics, Chcuk Love, Shik Stylko, Rhythm Slaves, Reel People, Aroma Allstars...
01 OSUNLADE - Unreleased Track [PROMO]
02 ANANE feat Mr.V & BLVD EAST & LOUIE 'LOU' GORBEA - Let Me Love You, Luv 4 Money (Jask's Thaisoul Mash-up Edit) [VEGA]
03 THE RURALS - Pleading With You (Moonlit Flower Mix) [PENG]
04 INNER SOUL - Support Your DJ (Vocal Mix) [CLONE]
05 DAVIDSON OSPINA - Mission Of Love [SOULSTAR]
06 CHAMPION SOUL feat RONYX - Holdin On (Restless Soul Vocal Remix) [SUNSHINE ENTERPREISES]
07 MISS PATTY - You Ain't Treating Me Right (Jason B Soulfusion Mix) [SOLE CHANNEL]
08 POLYPHONICS feat SANNE - Changing Times (Polyphonics Main Mix) [SOLE MUSIC]
09 LISA SHAW - Cherry (Miguel Migs Salted Vocal Remix) [NAKED MUSIC]
10 DA SUNLOUNGE - Belgrade (Original) [GOODFAMILLY RECORDINGS]
11 TOWA TEI - Risk Some Soul (Knee Deep Remix) [FLASH DIRECTIONS]
12 CHUCK LOVE - Set Me Free (Deep Mix) [VISTA]
13 SHIK STYLKO - House The Joint (Original Mix) [99 CARAT]
14 JUSTIN MICHAEL feat JACKIE WILSON - Ready 4 More (Richard's Re-Tweaked Vocal) [DUFFNOTE]
15 BROWN & STEVE LITTLEMEN - Foolin' Around (Browns Vocal Dub) [MOBILE TRAX]
16 GROOVE JUNKIES feat SOLARA - Just Groovin (Classic Roots Mix) [AGAVE]
17 JAY J feat CHARLENE MOORE - With Him (Ron Carroll's BMC Black Gospel Feel Edit) [DEFECTED]
18 ANDRE HARRIS - Get Down Africa (Dub Mix) [LARGE]
19 GROOVE JUNKIES feat SOLARA - Just Groovin (Classic Roots Mix) [AGAVE]
20 RHYTHM SLAVES - As We Go On (Bobby And Steve Remix) [ZOO GROOVE STEREO]
21 SCOTT WOZNIAK - Feelin The Music [LARGE]
22 JOHNNY FIASCO feat JACKIE - All Right (Double Dub Rerub) [TONIC]
23 AXWELL feat STEVE EDWARDS - Watch The Sunrise (Bob Sinclar Remix) [AXTONE]
24 BORN TO FUNK - Souma Bana (Sono Di Korsou Mix) [SOULFURIC TRAX]
25 M.O.D. feat MINDPRINT - Without love (M.o.D. Soulful Feeling Dub) [PROMO]
26 MOJO PROJECT - Tell Me Why (Kiko Navarro Funk Exploion) [LOVEMONK]
27 JUKE JOINT & INAYA DAY - Respect Yourself (Steven Stone Revival Mix) [PLAYER RECORDS]
28 THE LITTLEMEN - Lock The Bank [NIGHTSHIFT]
29 LENNY FONTANA pres OCTAHVIA - The Way (Chus And Penn Club Mix) [DEFECTED]
30 SOUL KHULA feat ANTONIO & MISS IDENTITY - Saturday Night (Native New Yorkers Analog Excursion Mix)
31 CHUCK LOVE - Bongos n' Shit [TANGO]
32 JOEY NEGRO pres AKABU - The Way (Miguel Migs Mix) [NRK]
33 STEREO MUTANTS - Street Party [CLUBSTAR]
34 MIDAS - Matrix [UMA]
35 SOUL CREATION feat MISU - Sueno En Ti (Peak Time Dub) [DEEP GROOVES]
36 HAVANA FUNK - Ya Salio (Scientific Soul Dub) [FLUENTAL]
37 JOHNNY FIASCO - Salsanova (Original) [AGAVE]
38 LOVE BOX feat NADEEN HOLLOWAY - Love You More Everyday (Morten Trust Mix) [ROYAL PLASTIC]
39 AROMA ALLSTARS - Episodes In Jazz (No Assembly Required vs Hogan'n Larner Orig Mix) [AROMA]
40 REEL PEOPLE fea SHARLENE HECTOR - The Rain (Joey Negro Vocal Re-Edit) [DEFECTED]
41 WEEKENDER - Quango (Main Mix) [ODORI]
42 MIGUEL MIGS - Check This Out [SALTED] SHAWN CHRISTOPHER - You Can Make It (Ron Carroll's Original Mix) [SOULFURIC]
About this DJ mix / legal statement >>> All songs in this DJ mix are copyright of their respective owners. If you are one of these owners just contact us, and tell us if you want to be removed. This DJ mix is placed online without any commercial purpose but in favor of all true music lovers. It's all about top House music production. Download and 'Njoy!