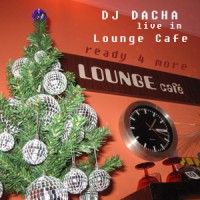 Last live DJ set for 2005 that I recorded in "Lounge Cafe". I was already preparing to leave for New York, but, I wanted to play in "Lounge Cafe" as much as I can. As usual we've had great great time partying @ "Lounge Cafe" that night. I selected and mixed some deeper cutz for cold December night, some new shit and some current hits... It was christmas time for me already... Check it out: Inner Soul, Afro Medusa, Marlon D, Shaheer Williams, Stephanie Cooke, KOT, Anderson Soares Project...
01 INNER SOUL - Support Your DJ (Vocal Mix) [CLONE]
02 AFRO MEDUSA - Beautiful Thing (Pablo Martinez Remix) [SUCASA]
03 JERSEY STREET - Sweet Music Play [ELECTRIC CHAIR]
04 SAM & GIGI - Bau Au (New Version) [STILL MUSIC]
05 MARLON D feat STEPHANIE RENEE - Love Is Key
06 FRANCK ROGER feat MANDEL TURNER - Celebrate (Vocal) [BETINO'S RECORDS SHOP]
07 JOHNNY FIASCO - Salsanova (Original) [AGAVE]
08 SHAHEER WILLIAMS feat STEPHANIE COOKE - Show Me (Fanatix Vocal Mix) [SOUL GROOVE]
09 FISH GO DEEP feat TRACEY K - The Cure & The Cause (Fish Go Deep Extended Mix) [GO DEEP]
10 JUSTIN MICHAEL feat JACKIE WILSON - Ready 4 More (Richard's Re-Tweaked Vocal) [DUFFNOTE]
11 ANDERSON SOARES PROJECT - Solaris (West End Blue Mix) [WEST END]
12 KINGS OF TOMORROW - 6pm (Simon Grey Synthesizer Remix) [DEFECTED]
13 ATELEWO feat OSUNLADE - New Day (Quentin Harris Remix) [SEAMLESS]
14 JAFROSAX feat VIKTER DUPLAIX - In The Morning (Jazztronik Re-Edit) [PANTONE MUSIC]
15 BROWN & STEVE LITTLEMEN - Foolin' Around (Browns Vocal Dub) [MOBILE TRAX]
16 KOFFE BROWN - After Party (Where Da Party At Jay J & David Harness Edit) [CONNECTED]
17 FRED EVERYTHING - Soulmates [OM]
18 JUSTIN MICHAEL feat JACKIE WILSON - Ready 4 More (Richard's Dub) [DUFFNOTE]
19 CHUCK LOVE - Set Me Free (Deep Mix) [VISTA]
20 CHANEL - My Life (Grant Nelson Vocal Mix) [ONE TWO]
21 GROOVE JUNKIES feat SOLARA - Just Groovin (Deep Down Og Mix) [AGAVE]
22 LIQUID PEOPLE present DANISM feat MONIQUE BINGHAM - Glance, Look, Stare (Original) [MILK'N 2 SUGAR]
23 JUKE JOINT & INAYA DAY - Respect Yourself (Steven Stone Revival Mix) [PLAYER RECORDS]
24 SCOTT WOZNIAK - Feelin The Music [LARGE]
25 ANDRE HARRIS - Get Down Africa (Dub Mix) [LARGE]
26 DEMARKUS LEWIS - Help Me Know [COASLINE]
27 DAVISDOSN OSPINA - Dig This (Main Mix) [BIG LOVE]
28 MIGUEL MIGS - Check This Out [SALTED]
29 SOUL KHULA feat ANTONIO & MISS IDENTITY - Saturday Night (Native New Yorkers Analog Excursion Mix) []
30 NATASHA LEW - Special Love (JohnnyC Flowers Dub) [MIX 2 INSIDE]
31 BORN TO FUNK - Souma Bana (Sono Di Korsou Mix) [SOULFURIC TRAX]
32 CHUCK LOVE - Bongos n' Shit [TANGO]
33 JOHNNY FIASCO feat JACKIE - All Right (Double Dub Rerub) [TONIC]
34 LOVE BOX feat NADEEN HOLLOWAY - Love You More Everyday (Morten Trust Mix) [ROYAL PLASTIC]
35 LENNY FONTANA pres OCTAHVIA - The Way (Chus And Penn Club Mix) [DEFECTED]
36 MAGIK JOHNSON feat SANDY MILL - Follow The Groove (Ian Pooley Mix) [NRK]
37 DAVIDSON OSPINA feat HENDERSON - Imagine Music (Funky Mix) [SOUND DIVISION]
38 RHYTHM SLAVES - Music In My Soul (Copyright Mix) [KNEE DEEP]
39 GROOVE JUNKIES - Music Got Ya Jumpin (Jay J's Shifted Up edit) [CONNECTED]
40 HAVANA FUNK - Ya Salio (Scientific Soul Dub) [FLUENTAL]
41 ASHEN & WALKER feat SHAUN ESCOFFREY - Music In My Life (Fred Everything Found My Way Mix) [GOTSOUL]
42 CHUS & CEBALLOS feat DEREK CONYER - Wrong About Me (Dave Storm Mix) [STEREO COOL]
43 ROBIN - Love Me (Ralphi's Big Chunk O' Love Mix) [PROMO]
44 SHIK STYLKO and D'STEPHANIE feat MELISSA - Wont Fall (D'Stephanie Mix) [PROMO]
45 CHRIS CARRIER - Latin Balance [MINORITY MUSIC]
46 DIGITAL MINDS - Sleeping With Gloves On [NIGHTSHIFT]
47 MARK FARINA - Cali Spaces (Kaskade Mix) [OM RECORDS]
48 FUNKY GREEN DOGS - Reach For Me (Shik Stylko Remix) [PROMO]
49 KEVIN YOST & HORACE JAMES - Pop Top [I RECORDS]
50 RAWSOUL ORCHESTRA feat MICHAEL WILLIAMS - Each And Every Day (Original Vocal Mix) [PLAYER]
About this DJ mix / legal statement >>> All songs in this DJ mix are copyright of their respective owners. If you are one of these owners just contact us, and tell us if you want to be removed. This DJ mix is placed online without any commercial purpose but in favor of all true music lovers. It's all about top House music production. Download and 'Njoy!