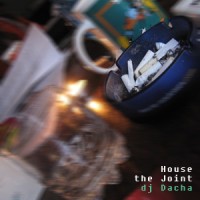 2 and a half hours of mixed party house music. It's deep, funky, jazzy, soulful with great vocals, good for easy going parties and as background chatting music, good for heart and soul. I would recommend this DJ mix for house music rookies, converted pop-rock headz, many of them are now house music lovers! I have to give the credits to : Franck Roger, Shaheer Williams, East West Connection, Jafrosax, Andre Harris, Johnny Fiasco, Jackie, Chuck Love, Chus & Penn, DJ Meme, Rainer Truby, Rasmus Faber, Shik Stylko...
01 SAM & GIGI - Bau Au (Original Mix) [STILL MUSIC]
02 FRANCK ROGER feat MANDEL TURNER - Celebrate (Vocal)
03 GEOFFREY WILLIAMS - Somewhere On A Beach (Phil Ashers Restless Soul Mix) [OYSTER]
04 SHAHEER WILLIAMS feat STEPHANIE COOKE - Show Me (Fanatix Vocal Mix) [SOUL GROOVE]
05 FUNKY GREEN DOGS - Reach For Me (MOD Remix) [PROMO]
06 ATELEWO feat OSUNLADE - New Day (Quentin Harris Remix) [SEAMLESS]
07 EAST WEST CONNECTION feat DANIEL VACCHIO - High On Life [CHILLI FUNK]
08 JAFROSAX feat VIKTER DUPLAIX - In The Morning (Jazztronik Re-Edit) [PANTONE MUSIC]
09 JUSTIN MICHAEL feat JACKIE WILSON - Ready 4 More (Richard's Dub) [DUFFNOTE]
10 ANDRE HARRIS - Get Down Africa (House Mix) [LARGE]
11 SHIK STYLKO and D'STEPHANIE feat MELISSA - Wont Fall (Shik Stylkoe Vocal) [PROMO]
12 JOHNNY FIASCO feat JACKIE - All Right (Double Dub Rerub) [TONIC]
13 CHUCK LOVE - Soul Symphony (Original Mix) [OM RECORDS]
14 DAVIDSON OSPINA feat HENDERSON - Imagine Music (Funky Mix) [SOUND DIVISION]
15 CHUS & PENN - Esperanza (Dub Mix) [DEFECTED]
16 DJ MEME pres MANDELA - Viva (Dj Meme's Original Club Mix) [KNEE DEEP]
17 RHYTHM SLAVES - You Will Come Around (Rhythm Slaves Club Mix) [DIASPORA]
18 RAINER TRUBY - Reach 4 Freedom (DF's Vocal Mix) [KINGSTREET]
19 DAVISDOSN OSPINA - Dig This (Main Mix) [BIG LOVE]
20 NATASHA LEW - Special Love (JohnnyC Flowers Dub) [MIX 2 INSIDE]
21 MATT CASELI - Regina's Sax Experience (Caseli Porn Mix) [SOULFURIC DEEP]
22 SHIK STYLKO - House The Joint (Original Mix) [99 CARAT]
23 CERRONE - Not Too Shabby (Jamie Lewis Goes Disco Mix) [PURPLE MUSIC]
24 MATEO & MATOS - Something I Wanna Say [LARGE]
25 RASMUS FABER feat MELO - Get Over Here (Remix) [FARPLANE]
26 DEEPGROOVE - Jus Luv Piano [KINKY VINYL]
27 DAVIDSON OSPINA - Holding On [SPINA RECORDS]
28 INTERNS feat SNOWBOY - Its About Time [CHILLI FUNK]
About this DJ mix / legal statement >>> All songs in this DJ mix are copyright of their respective owners. If you are one of these owners just contact us, and tell us if you want to be removed. This DJ mix is placed online without any commercial purpose but in favor of all true music lovers. It's all about top House music production. Download and 'Njoy!