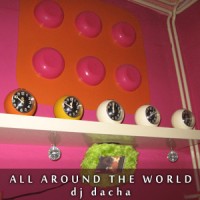 My laptop bag was prepared for mixing 24/7 and me too. I was able to record mostly all of my sets easily without hustle after I start using Traktor software. I found out later that many of my recorded sets (read 101%) are definitely useful when it comes to party, juts press play and enjoy party with guests, music will play at least for 3,4 days non-stop... Check out some great names here that I love; Brad Holland, AUdiowhores, Blaze, Louie Vega, Anane, Julius Papp, D'Layna, MOD, D'Stephanie, Cricco Castelli, Barbara Tucker, Dave STorm, Seminal Grooves...
01 BRAD HOLLAND - Crazy (Secret Soul Rmx) [ELAN ROUGE]
02 AUDIOWHORES feat ALEXIS HALL - Subject Of My Affection (Original Vibe) [SOULFURIC DEEP]
03 BLAZE feat ULTRA NATE - A Wonderful Place (Bobby & Steve & James Ratcliff Remix) [PROMO]
04 SABRINA MALHEIROS - Maracatueira (Incognito Main Nix) [FAR OUT]
05 LOUIE VEGA pres ANANE - Amazing Love (Roots Mix) [VEGA]
06 JULIUS PAPP & D'LAYNA - Celebrate (Vocal) [NEO DISCO]
07 BELEZAMUSICA - U Got Me Spinning (Original) [SOULLOVE]
08 JOEY MUSAPHIA feat LISA MILLETT - You Are The Best (Mod Vocal) [REFUNKT]
09 MOD - Cocktail Chant (Extended Club Mix) [PURPLE MUSIC]
10 D'STEPHANIE - If We (Original Mix) [REALISTIC TRAX]
11 CHUCK LOVE - El Divorcee [SALTED]
12 BOBBY BLANCO & MIKI MOTO - Black sugar (Original Mix) [DEFECTED]
13 SHIK STYLKO - House The Joint (Original Mix) [99 CARAT]
14 SOUND NAVIGATORS - The Vibe (Original Mix) [OLIVE]
15 CRICCO CASTELLI - The Bump [ILLEGAL BEATS]
16 BLAZE feat BARBARA TUCKER - Most Precious Love (Copyright Spiritual Vocal Mix) [DEFECTED]
17 DRUW & PEREZ feat DON E - A Little Sunshine (Copyright Original) [COPYRIGHT]
18 JAMIE LEWIS feat MICHELLE WEEKS - Be Thankful (Main Mix) [PURPLE MUSIC]
19 MAGIK JOHNSON - Rollergirl (Magik J Kingsland Mix) [NRK]
20 MATEO & MATOS - Comin Your Way [LARGE]
21 MONKEY BROTHERS - Invisible (M.o.D Club Mix) [PAPA]
22 RASMUS FABER feat MELO - Get Over Here (Remix) [FARPLANE]
23 SUNBURST BAND - We Will Turn You On (Brian Tappert Re-Edits) [Z RECORDS]
24 OLIVER DESMET - Just Like Heaven [AMENTI MUSIC]
25 DAVE STORM feat ANNIE STOCKS - Number One (Original Vocal) [STEREO COOL]
26 FAZE ACTION feat ZEKE MANYIKA - Kariba 2005 (Copyright Remix) [COPYRIGHT]
27 AUDIOWHORES feat SUSANA MONTERO - Orillas Del Mar (Club Mix) [SOULFURIC DEEP]
28 BELEZAMUSICA - Running Away (Seamus Haji Mix) [SOUL LOVE]
29 DJ MEME pres MANDALA - Viva [PROMO]
30 PHYSICS - Viva l'amore (Original Remix) [PROMO]
31 SHAPESHIFTERS - Back To Basics (Vocal Mix) [NOCTURNAL]
32 MOD - Movin Constructions [MOD PRODUCTIONS]
33 CAROUSEL feat KRYSTEN CUMMINGS - Wanted (Latino Dub Mix) [SOULFURIC TRAX]
34 PEPE LINK feat MALCOLM MOLLY DUNCAN - Kalakuta (Original Mix) [MOREHOUSE]
35 SEMINAL GROOVES - Keep Me Up (Seminal Vocal Mix) [DEVICE]
36 NATIVE NEW YORKERS - All Around The World [UNDO]
37 DEMARKUS LEWIS feat KELLI LEWIS - 5 till 4 [AESOTHERIC RECORDS]
38 THE COFFEE KIDZ - Dangerous Frequencies (Vocal Mix) [MN2S]
39 SOULMAGIC - Yah Yah (Original Mix) [SOULFURIC DEEP]
40 SUMO - Seducao (Original Bounce) [BUBBLE SOUL]
41 KB - El' Musica (Original Mix) [YORUBA]
42 AMNAYE - Anzar [REEL TONE]
43 BIG SEXY feat PETER FUNK & KEVIN YOST - Involved [I RECORDS]
44 DEEP HOUSE SOULDIERS - In My Bag (Original) [LOWDOWN]
45 DEEP JOSH - Because (Original Mix) [PROMO]
46 CHUCK LOVE feat FOURFEET - Back In My Life With Fourfeet [SALTED]
47 HALDO feat GIORGIA CEE - People [PROMO]
48 WEEKENDER - Quango (Dub Mix) [ODORI]
49 AMERIE - One Thing (Vocal Edit By Mr K) [PROMO]
About this DJ mix / legal statement >>> All songs in this DJ mix are copyright of their respective owners. If you are one of these owners just contact us, and tell us if you want to be removed. This DJ mix is placed online without any commercial purpose but in favor of all true music lovers. It's all about top House music production. Download and 'Njoy!