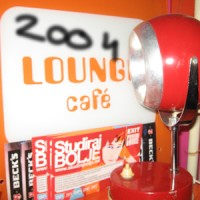 This very long and very good live DJ mix is my first recorded @ Lounge Cafe (R.I.P.) Lounge was the best cafe in the city of Novi Sad for me! It was ideal for nu-jazz and deep & soulful house relaxation... That place was always packed at the nights with great crowd, and they would play nice lounge music through the day so you can chill a bit. I remember that I didn't have proper DJ equipment that night, but I was happy to present all that I collected for this kind of event. Check out how long track listing is, you'll be sure that we have had great party night. I mixed more then 6 hours, some of the included artists are: Crazy Penis, Blakkat, Rivera Rotation, J.Axel, Kenny Carvajal, DJ Deep, Fred Everything, Minus 8, Suges & Martino, Miguel Migs, Native New Yorkers, I Shead, Blaze, E-man...
01 CRAZY PENIS - I Think I Like You [SHIVA]
02 STONEBRIDGE - Can't Get Enough [HED KANDI]
03 BLAKKAT feat ASWAN - The Rite Place (Crazy Penis Remix) [SHIVA]
04 HUDDERSFIELD SOUL PROJECT - Addicted To Your Love (Vocal Mix) [SOULFUL SESSIONS]
05 RIVERA ROTATION - Tonight [LOUNGE RECORDS]
06 CRAZY PENIS - 13th Movement [SHIVA]
07 J. AXEL - You Give Me [STRATRA RECORDINGS]
08 DEEP SENSUOUS COLLECTIVE - I know A Girl [PROMO]
09 KENNY CARVAJAL feat JOHN PIERCE - My Words [SOLE PHUSION]
10 SIN PALABRAS - Yemaya (John Beltram Mix) [YORUBA]
11 DJ DEEP & JULIEN JABRE - Dom Dom Jump [BASENOTIC]
12 METTLE MUSIC - Sleepy Head [METTLE MUSIC]
13 FRED EVERYTHING - Elevate (Original Mix) [20:20 VISION]
14 MINUS 8 - White (Big Bang Remix) [COMPOST]
15 JOHN BELTRAN - Candela [UBIQUITY]
16 SUGES & MARTINO - Slave To The Poison [SOULSTAR]
17 MIGUEL MIGS - Lionels Jam [NRK]
18 ANANDA PROJECT - Big Boat [NITEGROOVES]
19 MR ALI - Swing it Baby (Remix) [NITE LIFE COLLECTIVE]
20 YUKIHIRO FUKUTOMI - Play Back (Main Mix) [KING STREET SOUNDS]
21 NARS feat EMMA - I Wanna Know (12 Vocal) [HED KANDI]
22 RICHARD DORFMEISTER - Valdemossa [SUNSHINE ENTERPRISES]
23 MIGUEL MIGS - Cuban Nights [NRK]
24 SCOTT FINDLEY - Deepenit [NORDIC TRAX]
25 CORY WELLS - Cold Beers [DIGIBAG]
26 MAGIK JOHNSON - The Five Tones [NRK]
27 METTLE MUSIC - Silence [METTLE MUSIC]
28 JAH QUES & CORY WELLS - Good Ol Smoke [DUFFLEBAG RECORDINGS]
29 STERLING ENSEMBLE feat JULIET MOESHA - The World (Vega Vocal) [MAW]
30 I SHEAD - Sincerement [NORDIC TRAX]
31 MUSIC FOR PLAYGROUND - Vuelve A Casa [BLUEM]
32 MARTIN SOLVEIG - I'm A Good Man [HED KANDI]
33 BLAZE - Where Are You At [PAPA]
34 NATIVE NEW YORKERS - All Around The World [UNDO]
35 JUSTIN MARTIN - Snow Day (JT Donaldson Mix) [UNTESIL]
36 JILL SCOTT - Golden (Redsoul's Rmx) [SONY]
37 UNIVERSAL ONE - Step Off (Ben Human Rmx) [PROMO]
38 BLAZE - Just Having Fun [PAPA]
39 YUKIHIRO FUKUTOMI - Brazilia (Dimitri From Paris To Rio Vocal) [KING STREET SOUNDS]
40 DAVID PANDA - This Time (Vocal Mix) [SEASONS]
41 JAN KRUGER - Sonora [MOON HARBOUR]
42 SPIKE W HELL - Basement [BRIQUE ROUGE]
43 E-MAN - Slangin (Marlon Ds Organ Mix) [JELLYBEAN SOUL]
44 SOULPLANET JAZZ ENSEMBLE - Gotta Be Love (Jazztrumental) [SOULPLANET]
45 GROOVE JUNKIES feat ALEXANDER SKY - I've Got It Bad (Gjs Classic Vox) [MORE HOUSE US]
46 BELEZAMUSICA - Running Away (Seamus Haji Mix) [SOUL LOVE]
47 CAJMERE feat WALTER PHILLIPS - Midnight (MG's Funkd Vocal Rmx) [CAJUAL]
48 FRED EVERYTHING feat ROY DAVIS Jr. - Next To Me (Original Mix) [20:20 VISION]
49 UNIVERSAL ONE - Smokin Love (Mikael Delta Rmx) [PROMO]
50 CRICCO CASTELLI - The Bump [ILLEGAL BEATS]
51 MATEO & MATOS - A Life To Come [NITEGROOVES]
52 DA SUNLOUNGE - Everybody [MYNA]
53 ROB BROWN & LEON LOUDER - So Confuzed [ODDS & ENDS]
54 KNEE DEEP - So Devine [KNEE DEEP]
55 THE BEARD feat AMMA - Call Me (Groove Assassin Mix) [PROMO]
56 FRED EVERYTHING feat KARL THE VOICE - For Your Pleasure (Original Mix) [20:20 VISION]
57 SANDY RIVERA feat HAZE - Dreams (Rasmus Faber Dub) [DEFECTED]
58 KIKO NAVARRO feat ISIS APACHE MONTERO - Shining (Dub Mix) [NITEGROOVES]
59 VANA BAR - 10 To 12 [CAFE SOLAIRE]
60 MOD - Aquadreams [WHITE LABEL]
61 JOSH and LUKE - Take Control (Josh's Mix) [NORDIC TRAX]
62 AUDIOWHORES feat SUSANA MONTERO - Orillas Del Mar (Original Vibe Mix) [SOULFURIC DEEP]
63 DEMARKUS LEWIS with LENA WADE - Your Touch (D's Lush Mix) [FAIR PARK]
64 KENNY HAWKES - Sleaze Walking (Update Version 2004) [BRIQUE ROUGE]
65 COPYRIGHT - Zambelaya [WHITE]
66 HIPP-E - House Stompin [DETOUR RECORDINGS]
67 KERRI CHANDLER - The Phone Call [DOWNTOWN]
68 GENE FARRIS - Ashaka (Migs Salted Rub A Dub) [VISTA]
69 SYKE N SUGARSTARR featuring BONNY FERRER - Todo Minha Vida (Vocal Mix) [DO THE HIP]
70 KING BRITT pres OBA FUNKE - Uzoamaka [DEFECTED]
71 TRUBY TRIO feat MARCIA MONTEZ - Alegre 2004 (Louie Vega's Elements Of Life Mix) [COMPOST]
72 DENNIS FERRER - Jero [DEFECTED]
73 JAY-J feat LIL KIM - The Jump Off (Vocal Mix) [WHITE LABEL]
74 ONE TOUCH feat COLIN CORVEZ - Ready (Alternative Dub Mix) [PURPLE MUSIC]
75 TREVOR LOVEYS - Fell The Horns (Shur-I-Kan's Dub Mix) [FREERANGE]
76 SUMO - Seducao (JKL Nueva Seduction) [BUBBLE SOUL]
77 UNIVERSAL ONE - Trains And Planes (Tweak Rmx) [PROMO]
78 KERRI CHANDLER - The Fix Is U [LARGE]
79 PATRICK TURNER feat RON WILLIAMS - Organica (That Place) (Original Mix) [AIRTIGHT]
80 JULIUS PAPP feat MORRISON & CHARLES SPENCER - Fall For You (Loveslap Interlude) [LOVESLAP]
81 JULIUS PAPP - Pacific State (12 Mix) [HED KANDI]
82 L'HOMME C'EST CHIQUE - Chasing Sunshine [GROOVY TUNES]
83 KEVIN YOST - Gentle Storm [I RECORDS]
84 AFTERLIFE - Breather (Eric Kupper Mix) [HED KANDI]
85 UNIVERSAL ONE - Streets Of Havanna (Swell Session Remix) [PROMO]
86 A BOSSA ELECTRICA - Tombo In 7-4 [SOSUA]
About this DJ mix / legal statement >>> All songs in this DJ mix are copyright of their respective owners. If you are one of these owners just contact us, and tell us if you want to be removed. This DJ mix is placed online without any commercial purpose but in favor of all true music lovers. It's all about top House music production. Download and 'Njoy!