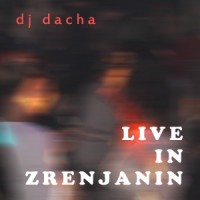 This long live DJ set is recorded in Zrenjanin city @ club Zeleno Zvono. I was invited to play few sets and I've always enjoyed hospitality and had some great time there. Crowd is always happy to see some new DJ faces and I took a chance to present some Latin & deep house vibes since I felt that they didn't even heard for many of them... There is something else besides techno music, it's called deep house; latin, funky, soulful, disco party mix... we also enjoyed the ambient and smoked a lot as usual...
01 HERB MARTIN - Soul Drums [IBADAN]
02 LOUIE VEGA feat BLAZE & RAUL MIDON - Sunshine (Sacred Rhythm Mix) [VEGA]
03 SIN PALABRAS - Yemaya (John Beltram Mix) [YORUBA]
04 FRED EVERYTHING feat THE NEW MASTERSOUND - Elevate (Original Mix) []
05 JT DONLADSON - Trust Me (Vocal Rework) [OM RECORDS]
06 FREAK COMMISION - Plastic Peanuts [DROP MUSIC]
07 FRESH & LOW - Controls The Sound [ELEVATION RECORDINGS]
08 LES GUTALESS - Challenge [PROMO]
09 GROOVE JUNKIES feat ALEXANDER SKY - I've Got It Bad (GJ's Soul Excursion Dub) [MORE HOUSE US]
10 ONE TOUCH feat COLIN CORVEZ - Ready (Vocal Mix) [PURPLE MUSIC]
11 KENSHYRO - Remember The Summer (Audiowhores Mix) [MAP DANCE]
12 D'STEPHANIE - If We (Original Mix) [REALISTIC TRAX]
13 MOD - Cocktail Chant (Extended Club Mix) [PURPLE MUSIC]
14 CRICCO CASTELLI - The Bump [ILLEGAL BEATS]
15 NATIVE NEW YORKERS - All Around The World [UNDO]
16 DONNA ALLEN - He Is The Joy (MOD Remix) [SOULFURIC]
17 CAJMERE feat WALTER PHILLIPS - Midnight (MG's Funkd Vocal Rmx) [CAJUAL]
18 AUDIOWHORES feat SUSANA MONTERO - Orillas Del Mar (Club Mix) [SOULFURIC DEEP]
19 KNEE DEEP - So Devine [KNEE DEEP]
20 SEAWIND PROJECT feat EMILY McEWAN - Free (Rasmus Faber Original Mix) [KNEE DEEP]
21 BELEZAMUSICA - Running Away (Seamus Haji Mix) [SOUL LOVE]
22 MOD - Turn Me Loose [PROMO]
23 DEMARKUS LEWIS - Parallels (Spanish Harlem Mix) [NORDIC TRAX]
24 JAMIROQUAI - Main Vein (Deep Swing's Jazzy Thumper Mix) [PROMO]
25 THE SUNBURST BAND - Fly Away (12' Vocal Mix) [HED KANDI]
26 SUMO - Seducao (Original Bounce) [BUBBLE SOUL]
27 RASMUS FABER feat MELO - Get Over Here (Remix) [FARPLANE]
28 KRAAK & SMAAK - Set Fire To The Disco [JALAPENO]
29 AUDIOWHORES - Got My Eyes On You (White Label 12")
30 MALENA - Vida Mia [HED KANDI]
31 CAROUSEL feat KRYSTEN CUMMINGS - Wanted (Latino Dub Mix) [SOULFURIC TRAX]
32 ?FREAK DO BRAZIL feat CLAUDIA DA SILVA - Toque De Raca (Stefano Gamma Album Mix)
33 SEAWIND PROJECT feat EMILY McEWAN - Free (Knee Deep Classic Club Mix) [KNEE DEEP]
34 THE COFFEE KIDZ - Dangerous Frequencies (Vocal Mix) [MN2S]
35 HIGH SPIES feat LATRICE BARNETT - This Time (Vocal Mix) [LOOK & FEEL MUSIC]
36 PENN & JABATO - Delicioso (A mix) [URBANA]
37 ROBERT CHETCUTI and DANNY S - In The Sunshine (Original Mix) [PURE DOPE]
38 CAROUSEL feat KRYSTEN CUMMINGS - Wanted (Club Mix) [SOULFURIC TRAX]
39 DAVID PENN feat ALEXANDER EAST - Stuck In (The Middle) [JAMAYKA RECORDINGS]
40 DJ JEROENSKI - My One Love (Main Club Mix)
41 JAMES BROWN - Soulpower (Lance DeSardi White Label Remix) [WHITE]
41 SOULMAGIC - Yah Yah (Original Mix) [SOULFURIC DEEP]
41 COPYRIGHT - Mateo Grasso [WHITE]
42 SATURATED SOUL feat MISS BUNTY - Got To Release (Ian Carey and Eddie Amador Club Mix)
43 APARTMENT 20 - B With U (Christian Hornbostel Rocka Rolla Remix) [ONE NIGHT]
44 ?
45 HAVANA FUNK - Bakiri Ban (Club Mix) [DEFECTED]
46 DAVID FERRERO - That's My Boo [WEEKEND]
47 HIPP-E - House Stompin [DETOUR RECORDINGS]
48 DAVIDSON OSPINA - Holding On [SPINA RECORDS]
49 DEEPGROOVE - Jus Luv Piano [KINKY VINYL]
50 CHIAPET - Westworld (Skylark Remix) [YOSHITOSHI]
51 DEMARKUS LEWIS feat KELLI LEWIS - 5 till 4 [AESOTHERIC RECORDS]
52 MATEO & MATOS - One Time [NITEGROOVES]
53 ? WEEKEND WORLD - Rainchimes [WEEKEND WORLD]
54 TREVOR LOVEYS - Fell The Horns (Shur-I-Kan's Dub Mix) [FREERANGE]
55 L'HOMME C'EST CHIQUE - Night Teaser [GROOVY TUNES]
56 MARINO BERARDI - Tool Time (Dub) [MI CASA]
57 JOSH and LUKE - Take Control (Josh's Mix) [NORDIC TRAX]
About this DJ mix / legal statement >>> All songs in this DJ mix are copyright of their respective owners. If you are one of these owners just contact us, and tell us if you want to be removed. This DJ mix is placed online without any commercial purpose but in favor of all true music lovers. It's all about top House music production. Download and 'Njoy!