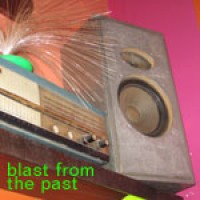 I've had some blast from the past, some new music for this night but also some blasts from the past like DeeLite Groove Is In The Heart, so all together one nice DJ mix; So, look what I mixed on it: Racoon feat Christine Lucas, Blakkat, Amma, Fish Go Deep, Boo Williams, Demarkus Lewis, Andy Caldwell, Jay-J, Basha, Racoon, Miguel Migs, Audiowhores, Essa, Midas, DJ Jorj, Bare Brass, Copyright, One 51, Bario Bross, Vincenzo...
01 RACOON feat CHRISTINE LUCAS - Come Alive (Jay-J's Jazzy Club) [DEEP TOUCH]
02 BLAKKAT versus THE BARIO BROS. - Understanding (Jay-J & Chris Lum Remix) [ELEKTRIK SOUL]
03 AMMA - Keep Hoping (Andy Caldwell Mix) [INSPIRIT MUSIC]
04 FISH GO DEEP feat TRACEY KELLIHER - Nights Like These (The Beard's Three Blades Dub) [INSPIRIT]
05 BOO WILLIAMS & DEMARKUS LEWIS - Keys To The City [ULTRASOUND RECORDINGS]
06 S.U.M.O. - Don't You Love Me (Dub) [SEASONS RECORDINGS]
07 ANDY CALDWELL & JAY-J feat LATRICE BARNETT - Give A Little (Andy's Original Dose) [NAKED MUSIC]
08 BASHA - 1 Note (Vaneesha Remix) [SOUNDS LIKE ULTRA]
09 RACOON feat ROSE MAX - E Luande (Mimosa Tropical Mix) [DEEP TOUCH]
10 MIGUEL MIGS - Making Moves [NRK]
11 AUDIOWHORES feat BLU - After The Party (Vocal Mix) [SOULFURIC DEEP]
12 JAY-J feat LATRICE BARNETT - Keep On Rising (Moulton Studios Dub) [DEFECTED]
13 NIGEL HAYES - Moving On (Fred Everything Vocal) [SUNSHINE ENTERPREISE]
14 FRED EVERYTHING - One For Me [LOWDOWN MUSIC]
15 DEMARKUS LEWIS - Waiting (Remix) [BLUEM]
16 DEE-LITE - Groove Is In The Heart (Extended) [ELEKTRA]
17 BOOTSY COLLINS - Dance To The Music (Knee Deep Mix) [MINISTRY OF SOUND]
18 OM - Funky Shit [OM RECORDS]
19 DAVID PENN feat ALEXANDAR EAST - Ready Guitar [JAMAYKA]
20 J & S PRODUCTIONS - Sentir Tu Amor [MAYA]
21 AFRIKANA - Sho Maka (Rpo Full Mix) [TRIBAL SPAIN]
22 LANCE DESARDI - I've Been There [MUZIQUE BOUTIQUE RECORDINGS]
23 UBP presents MICHAEL PROCTOR - Deliver Me (Hardsoul Keeps On Trying Dub) [SOULFURIC]
24 BARRIO BROS - Hold On To Your Love (Fred E. Vocal Mix)
25 BARBARA MENDES - Musica (Native New Yorkers Vocal Club Mix) [UNDO]
26 CHRIS LUM - Smack Up (Danny Marquez & Ferry B Bubble Boggie Mix) [BUBBLE SOUL]
27 JULIUS PAPP feat SAMBA NGO - Bole Bantu [LARGE RECORDS]
28 COPYRIGHT feat SHOVELL - Bulo (Afro Mix) [SOULFURIC TRAX]
29 ESSA - Horse On A Motorway (Magik Johnson Dub) [PAPER]
30 MIDAS - Juice Beats [ICON RECORDS]
31 DJ JORJ - Brazil Horns (Joeski Remix) [DISTANT MUSIC]
32 BARE BRASS - Bana Cuba (Original Mix) [STEALTH]
33 ONE 51 - Si Weka (Original Mix) [SOULFURIC DEEP]
34 JAY J feat LATRICE BARNETT - Start It Up (Original Mix) [BUBBLE SOUL]
35 JAY-J feat ALEXANDER EAST - Higher Ground [LOVESLAP RECORDINGS]
36 JAY-J & HALO - Like Jazz [LARGE RECORDS]
37 BRETT JOHNSON - Me Talk Pretty One Day [ICON RECORDINGS]
38 GAMAT 3000 - Whispering (Swag's Softly Spoken Dub) [DESSOUS]
39 VINCENZO - King's Last Ride
40 DON CARLOS UNLIMITED - Love & Devotion (Main Mix) [STEREO SUSHI]
41 DJ BUCK - Soul Satisfaction
42 MODERN QUARTET - Jazzonized (Danylo's House Mix) [PROMO]
About this DJ mix / legal statement >>> All songs in this DJ mix are copyright of their respective owners. If you are one of these owners just contact us, and tell us if you want to be removed. This DJ mix is placed online without any commercial purpose but in favor of all true music lovers. It's all about top House music production. Download and 'Njoy!