Dacha's Live Sets
On this page you'll find my DJ sets which are recorded while I was playing Live at my favorite clubs and venues. I was resident DJ for many years, and I used to play 4 nights weekly in legendary club Contrast and I have had resident night at Paradiso discotheque in Novi Sad. However, Lounge Cafe happened to be last place where I did my last weekly DJ sessions before I moved to New York City. Every set has different vibe and it's worth listening and downloading. It's 99% house music with big influence of Jazz, Nu-Jazz, Soul, Funk and Afro-Latin rhythms and elements.
Category: Live DJ sets
Hits: 4823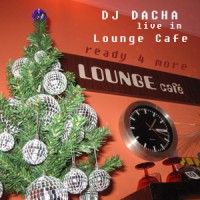 Last live DJ set for 2005 that I recorded in "Lounge Cafe". I was already preparing to leave for New York, but, I wanted to play in "Lounge Cafe" as much as I can. As usual we've had great great time partying @ "Lounge Cafe" that night. I selected and mixed some deeper cutz for cold December night, some new shit and some current hits... It was christmas time for me already... Check it out: Inner Soul, Afro Medusa, Marlon D, Shaheer Williams, Stephanie Cooke, KOT, Anderson Soares Project...