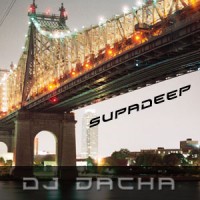 This week we enjoyed listening to some great afro house and also some latin rhythms. Add to that few soulful, deep and tech tracks and you have good mix with: Boddhi Satva, Anthony Nicholson, Shovell, Johnny Fiasco, Grey, Shawn Ward, White Lotus Society, Catch The Wave, Mike Acetate & Carlos Gibbs feat Roy Davis Jr, Nacho MarcoSkape D Jear...
BODDHI SATVA - Bria's Offering (Original Mix) YORUBA
ANTHONY NICHOLSON - Bloodfire (Fire Mix) CIRCULAR MOTION
SHOVELL - Drums of Ghodrat (Louis Benedetti Da Drums) DEFECTED
JOHNNY FIASCO - Go Deep CONTROL
GREY - Everythings Swell BLUNTED FUNK
SHAWN WARD - Time Machine Master DEMO
WHITE LOTUS SOCIETY - Space Cadillac (JT Donaldson Mix) MUZIQUE BOUTIQUE
CATCH THE WAVE - Da Funk ACRYL MUSIC
MIKE ACETATE & CARLOS GIBBS feat ROY DAVIS Jr - Jus Move (Jimpster Remix) DEEP HOUSE PROJECT
NACHO MARCO - Wench (Francois DuboisMix) FREERANGE
SKAPE D'JEAR – Spanish Love (Room Tempo) BARGROOVES
About this DJ mix / legal statement >>> All songs in this DJ mix are copyright of their respective owners. If you are one of these owners just contact us, and tell us if you want to be removed. This DJ mix is placed online without any commercial purpose but in favor of all true music lovers. It's all about top House music production. Download and 'Njoy!