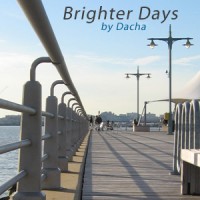 This show is full of beautiful vocals that you cannot resist. It's that beautiful soulful house music signed this time by: Su'Su Bobien, Restless Soul feat Zanskia, Olivier Desmet & Chuck Diesel, The Candy Dealers, Miguel Migs, Underground Ministries feat Kenny Bobien, Franck Roger, Yass, Quality Control, Blvd East & Louie Lou Gorbea, Souldeep Collective...
SU'SU BOBIEN - You Brought Me Brighter Days (Tyron Dixon Remix) SOUNDMEN ON WAX
RESTLESS SOUL feat ZANSIKA - And I Know It (Vocal Mix) SEASONS LIMITED
OLIVIER DESMET & CHUCK DIESEL - We Ride PRIMAL DIGITAL
THE CANDY DEALERS - Time (Repack) AGAVE
MIGUEL MIGS - So Far (Josh Heath's Funky Hat Remix) SALTED MUSIC
UNDERGROUND MINISTRIES feat KENNY BOBIEN - I Shall Not Be Moved (B's Promise Land) SOULFURIC RECORDS
FRANCK ROGER - The Spot EARTHRUMENTAL MUSIC
YASS - I Go Deep (Extended Dub Mix) GREI MATTER
QUALITY CONTROL - Slippin' (Troydon's Attack The Wack Dub) PHONOSHUFFLE
BLVD EAST & LOUIE LOU GORBEA - A Journey Into (Alix Alvarez Remix) COCO SOUL
SOULDEEP COLLECTIVE - Fire In My Soul (Vocal Mix) integrity
About this DJ mix / legal statement >>> All songs in this DJ mix are copyright of their respective owners. If you are one of these owners just contact us, and tell us if you want to be removed. This DJ mix is placed online without any commercial purpose but in favor of all true music lovers. It's all about top House music production. Download and 'Njoy!