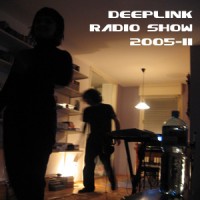 Radio show is sometimes much better when you have your crew around, we would listen to some goood house music, play some jingles and listeners would have small funky party with their friends at home, so this interesting DJ mix is for you and me, us. It's more down-tempo and less uplifting and pumping house, but it has that little "hot paprika" at the end. Check out these respected artists; Sumo, Rigas, Nadirah Shakoor, Atelewo, Osunlade, Kolai Krew, Fish Go Deep, Gabi Newman, Jersey Street, Geoffrey Williams, Patrick Turner. Audiowhores...
SUMO feat RIGAS - Tribute (Original Mix) HEYA HIFI
NADIRAH SHAKOOR - Just A Breath Away (Hi-Perspective Mix) YORUBA
ATELEWO feat OSUNLADE - New Day (Quentin Harris Remix)
JAFROSAX feat VIKTER DUPLAIX - In The Morning (Jazztronik Re-Edit) PANTONE MUSIC
KOLAI KREW & KRAYOLA feat MARIA ROCHELLLE - Take It Back (Oldschool Vibe) THAISOUL
FISH GO DEEP feat TRACEY K - The Cure & The Cause (Fish Go Deep Extended Mix) GO DEEP
ASHEN & WALKER feat SHAUN ESCOFFERY - Music In My Life (Fred Everything Found My Way Mix) GOTSOUL
GABI NEWMAN feat AARON LORDSON - Let Me Love You (Newman Vocal Mix) STEREO COOL
JERSEY STREET - Sweet Music Play ELECTRIC CHAIR
GEOFFREY WILLIAMS - Somewhere On A Beach (Phil Ashers Restless Soul Mix) OYSTER
PATRICK TURNER - Only The High AGAVE
AUDIOWHORES feat Q-TIP & BUSTA RHYMES - Nasty, Sassy, Classy (4w Original Pimp Mix) WHITE
DOUG WILLIS - Got To Get Your Own WHITE
HALO & SIDE STREET PLAYERS feat MAYA - This Love (Full Vocal Mix) CITY DEEP
JUSTIN MICHAEL feat JACKIE WILSON - Ready 4 More (Richard's Dub) DUFFNOTE
NICK HOLDER feat GENTLE AURA - Darkness Falls (Noel Nanton Remix) DNH
NATASHA LEW - Special Love (JohnnyC Flowers Dub) MIX 2 INSIDE
GRANT NELSON - Je Suis Ta Drogue (Jackin Dubstrumental) WYZE
MATT CASELI - Regina's Sax Experience (Caseli Porn Mix) SOULFURIC DEEP
KERRI CHANDLER - So Let The Wind Come NITEGROOVES
SCOTT WOZNIAK - Gotcha Movin LARGE
DJ TEKIN feat BETH TROLLAN - Wait Forever (Original Mix) DEFECTED
PETER FUNK & KEVIN YOST as BIG SEXY - Couch Lovin I RECORDS
Check out this DJ mix on:
HearThis
MixCloud
Odysee
Rumble
YouTube
About this DJ mix / legal statement >>> All songs in this DJ mix are copyright of their respective owners. If you are one of these owners just contact us, and tell us if you want to be removed. This DJ mix is placed online without any commercial purpose but in favor of all true music lovers. It's all about top House music production. Download and 'Njoy!