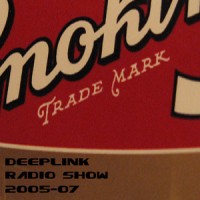 Need some nice easy going house DJ mix for the summer parties? This one is ideal for chill and cool sessions. Spa for ears. A little bit of acid at the end, cocktail with deep, organic, jazzy, silky, house & little bit of tech. Great people running this show; Ananda Project, My good friend Zlatan did remix for my track It's gotta be deep!, also Sound Navigators, Kraak & Smaak, Demarkus Lewis, Soul Rebels, Dennis Ferrer, Mateo & Matos, Blaze, Bobby Blanco, Belezamusica...
ANANDA PROJECT - Bahia (Kyoto Jazz Massive D&B Mix 12' Edit) NITEGROOVES
MFM with GEORGE CAPER - It's Gotta Be Deep (Zlatan's Deeper Mix) DEEPERLINK
BROWN AND STEVE LITTLEMEN - Changing (Stratford Dub) AROMA
SOUND NAVIGATORS - Down On It (Original Mix) BLOCKHEAD
DEMARKUS LEWIS - Help Me Know COASLINE
KRAAK & SMAAK - Set Fire To The Disco JALAPENO
SOUL REBELS - I'll Be Good (Original Mix) DEFECTED
FAZE ACTION feat ZEKE MANYIKA - Kariba 2005 (Copyright Remix) COPYRIGHT
DENNIS FERRER - Dem People Go (Mahoota House Africa Mix) NITE GROOVES
MATEO & MATOS - Akara (Karol XVII Mix) PROG CITY DEEP
BLAZE feat BARBARA TUCKER - Most Precious Love (Copyright Spiritual Vocal Mix) DEFECTED
REEL PEOPLE feat ANGELA JOHNSON - Can't Stop (Kenny Dope Rmx) PAPA
FULL INTENTION presents DEEP DOWN - It Seems To Hang On (Definite Grooves Remix) DEFINITE GROOVE
DAVIDSON OSPINA feat HENDERSON - Imagine Music (Funky Mix) SOUND DIVISION
BOBBY BLANCO & MIKI MOTO - Black sugar (Original Mix) DEFECTED
CHRISTIAN ALVAREZ feat DRE - Sophisticated Groove (Vocal Vibe) DELECTO
BELEZAMUSICA - U Got Me Spinning (Seamus Haji Mix) SOULLOVE
SHIK STYLKO and D'STEPHANIE feat MELISSA - Wont Fall (Shik Stylkoe Dub) PROMO
SHIK STYLKO - House The Joint (Original Mix) 99 CARAT
CAROUSEL feat KRYSTEN CUMMINGS - Wanted (Latino Dub Mix) SOULFURIC TRAX
CRICCO CASTELLI - La Casa Del Jazz (KTA Mix) SOULFURIC DEEP
DJ MEME pres MANDALA - Viva PROMO
DJ JEROENSKI - My One Love (Main Club Mix) REFUNKT
D'STEPHANIE - If We (Original Mix) REALISTIC TRAX
ANTHONY ACID feat RUBY - Sweat (Soul Avengez Remix) PROMO
JOEY NEGRO pres AKABU - The Way (Miguel Migs Mix) NRK
DJ Z - Wet Dreams PROMO
CHIAPET - Westworld (Skylark Remix) YOSHITOSHI
About this DJ mix / legal statement >>> All songs in this DJ mix are copyright of their respective owners. If you are one of these owners just contact us, and tell us if you want to be removed. This DJ mix is placed online without any commercial purpose but in favor of all true music lovers. It's all about top House music production. Download and 'Njoy!