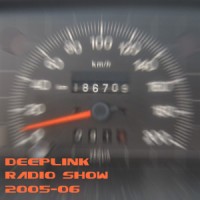 I wanted ONLY HITS mix for this radio show, and this mix is just like that. It's starting with some organic spiritual guidance melodies, and then after that you'll hear some latin inspired flavors with funky-near-disco rhythm, always with deepness, bass great rhythm. You'll need some cosy atmosphere to completely enjoy in this one. While I was producing and performing my radio show, I would turn off room lights and smoke something... Great artists; Natasha McBeam, Osunlade, Sabrina Malheiros, Blaze, Paulo Rocha, Amnaye, Deep Josh, Oliver Desmet, Shik Stylko, Acapulco, Davidson Ospina, Aroma Allstars... 
PANYARD PRODUCTIONS - Vashist SOUL DELICIOUS
NATASHA McBEAM - Visionary (Harley & Muscle Deep Mix) BUBBLE SOUL
OSUNLADE feat KB - El' Musica (Vice Mix) YORUBA
SABRINA MALHEIROS - Maracatueira (Incognito Main Nix) FAR OUT
BLAZE - Keep Hope Alive (Roots Vocal Mix) KING STREET SOUNDS
PAULO ROCHA - Takedown BLACK VINYL
DEEP HOUSE SOLDIERS & TREVOR LAMONT - Human (Original) LIMESTONE
AMNAYE - Afa REEL TONE
DEEP JOSH - Because (Original Mix) PROMO
BOBBY BLANCO & MIKI MOTO - Black sugar (Original Mix) DEFECTED
HALDO feat GIORGIA CEE - People PROMO
MOD - Movin Constructions MOD PRODUCTIONS
JAMIE LEWIS feat MICHELLE WEEKS - Be Thankful (Main Mix) PURPLE MUSIC
SOUND NAVIGATORS - Down On It (Original Mix) BLOCKHEAD
PEPE LINK feat MALCOLM MOLLY DUNCAN - Kalakuta (Ma-Yorkins Peaktime Dub) MOREHOUSE
FAZE ACTION feat ZEKE MANYIKA - Kariba 2005 (Copyright Remix) COPYRIGHT
CHUCK LOVE - El Divorcee SALTED
SOUND NAVIGATORS - Down On It (Joey Youngman Remix) BLOCKHEAD
OLIVER DESMET - Just Like Heaven AMENTI MUSIC
SEMINAL GROOVES - Keep Me Up (Seminal Vocal Mix) DEVICE
DAVE STORM feat ANNIE STOCKS - Number One (Original Vocal) STEREO COOL
DRUW & PEREZ feat DON E - A Little Sunshine (Copyright Original) COPYRIGHT
JOEY MUSAPHIA feat LISA MILLETT - You Are The Best (Mod Vocal) REFUNKT
SHIK STYLKO - House The Joint (Original Mix) 99 CARAT
DJ MEME pres MANDALA - Viva PROMO
PHYSICS - Viva l'amore (Grant Nelson Remix) PROMO
D'STEPHANIE - If We (Original Mix) REALISTIC TRAX
CAROUSEL feat KRYSTEN CUMMINGS - Wanted (Latino Dub Mix) SOULFURIC TRAX
BELEZAMUSICA - U Got Me Spinning (Seamus Haji Mix) SOULLOVE
ACAPULCO - Infierno FRAGILE
DAVIDSON OSPINA - Holding On SPINA RECORDS
AROMA ALLSTARS - Episodes In Jazz (No Assembly Required vs Hogan'n Larner Orig Mix) AROMA
HALO feat ATWATER & Mr. V. - Change LARGE
MAXINE INNISS - Standing Strong (Without You) (Deep Vybe Dub) FUZION
Check out this DJ mix on:
HearThis
MixCloud
Odysee
Rumble
YouTube
About this DJ mix / legal statement >>> All songs in this DJ mix are copyright of their respective owners. If you are one of these owners just contact us, and tell us if you want to be removed. This DJ mix is placed online without any commercial purpose but in favor of all true music lovers. It's all about top House music production. Download and 'Njoy!