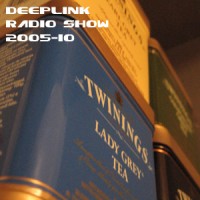 You know, when it's cold outside sometimes I love to hear good deep techy house mixed with some organic live sound on my radio, that means less vocals and more instrumental music for someone. And, I would drink some nice black tea while I was mixing this techy stuff. And usually it would be rainy night. But it's not everything tech here, mood is getting better with some Latin percussions and rhythms. This mix + tea drinking = good mood. And... Kevin Yost, Hanna Hais, Juan Hoerni, Antonio Ocasio, Marlon D, Demarkus Lewis, Fanatix, Deep Josh...
DJ INO feat KISKA - My Way (Charles Webster Remix) HOUSE CAFE
KEVIN YOST - Ever After You (Main Mix) I RECORDS
FRANCK ROGER - Olinga DANCE RITUAL
HANNA HAIS - Parfum Chic (Matty's Soulflower Mix)
JUAN HOERNI & PHIL SHEERAN - J'Attends (Original Mix) CHA CHA
ANTONIO OCASIO feat ANNETTE TAYLOR - Shianne (Lifes Masterpiece) SHELTER
MARLON D - Tropical Love JELLYBEAN SOUL
FUDGE - Tejal KIF
DAVID BANKS PROJECT feat WARDELL PIPER - Good Lovin (Martinos Xai Xai Mix) CATCH 22
DEMARKUS LEWIS - Life Drifts BRIDGE MUSIC
FANATIX feat KELE LE ROC - Lesson Learned (Fanatix Underground Dub) OSIRIS
MARLON D feat STEPHANIE RENNE - New York House (Vocal Mix) JELLYBEAN
MARK FARINA - Cali Spaces (Kaskade Mix) OM RECORDS
DA SUNLOUNGE - Oh Momma (Thomas White Remix) GOODFAMILLY RECORDINGS
DEEP JOSH - Because (Original Mix) PROMO
HARDSOUL feat NEW COOL COLLECTIVE - Bounson (DJ Pipi & IKL vs Solarside Remix) HARDSOUL
RHYTHM SLAVES - Music In My Soul (Copyright Mix) KNEE DEEP
DA SUNLOUNGE - Baby How Long (Johnny Fiasco ReEdit) DOUBLEDOWN
CHUCK LOVE feat FOURFEET - Back In My Life With Fourfeet SALTED
ANNETTE TAYLOR - Faith (M & M Original Mix) FLUENTAL
RON HALL & THE MUTHAFUNKAS feat MARK EVANS - The Way You Love Me HUSTLE MUSIC
CHUCK LOVE - Soul Symphony (Acid Washed Dub) OM RECORDS
DAVIDSON OSPINA feat HENDERSON - Imagine Music (Funky Mix) SOUND DIVISION
REEL PEOPLE feat ANGELA JOHNSON - Can't Stop (Kenny Dope Rmx) PAPA
THE JINKS - Love Like This (Original Mix) MN2S
About this DJ mix / legal statement >>> All songs in this DJ mix are copyright of their respective owners. If you are one of these owners just contact us, and tell us if you want to be removed. This DJ mix is placed online without any commercial purpose but in favor of all true music lovers. It's all about top House music production. Download and 'Njoy!