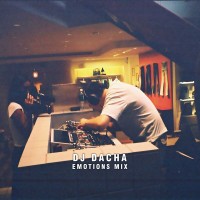 Emotions is my second DJ mix that I mixed and recorded after my return from New York city, and my visit to Satellite Records (R.I.P.). New York was very inspirational, and it wasn't hard to recall all those emotions that I felt visiting this urban jungle. I tried to put it all in this mix, from deep, tech to techno, I hope you'll feel it and that you'll visit this beautiful city one day... Until then, enjoy the music from:; Dalunartikz , Solaris, Altocamet, Hot Lizard, Anti Trance Terrorists, Shuffle, Liquid Phonk, Angel Moraes, Bass & Penn, Full Intention feat Shena, Tropical Deep feat Jazz Brazillia, Rino Cerrone, Michael Peters...
Dalunartikz - Higher (Sub Lunar Mix) Arthrob
Solaris - Sunrise (Original Mix) Guidance Recordings
Altocamet - Valeria Del Mar (Recoleta Mix) Matter
Hot Lizard - The Theme (B.H.Q. Dangly Revision) Product Deluxe
Anti Trance Terrorists - Who Dunnit? (20-20 At War Mix) Creative Music
Shuffle - Samba Cross Section
Liquid Phonk - Liquid Phonk School Records
Angel Moraes - Everybody's Feelin' (Chad Jackson's Ju Ju Mix) Audio Deluxe
Bass & Penn - Happiness (Original Mix) Weekend Records
Full Intention feat Shena - I'll Be Waiting (Brother Brown Copenhagen Vocal) Rulin Records
Tropical Deep feat Jazz Brazillia - Feel The African Sun Waako Records
Rino Cerrone - Intense Flood Rilis
Michael Peters - Return (Producers Remix) Creative Music
Rino Cerrone - Integrate Rilis
Liquid Phonk - One School Records
About this DJ mix / legal statement >>> All songs in this DJ mix are copyright of their respective owners. If you are one of these owners just contact us, and tell us if you want to be removed. This DJ mix is placed online without any commercial purpose but in favor of all true music lovers. It's all about top House music production. Download and 'Njoy!