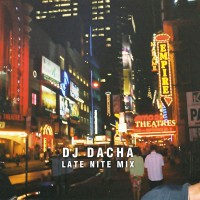 Finally, this was my 3rd and last DJ mix that I mixed with records that I bought on my NYC trip. I really enjoyed mixing all these DJ mixes since I got great great fresh tracks... And, all this music is coming from respected producers and singers such as: Solar House, St. Germain, Altocamet, Holland Tunnel, Martin Solveig, Tropical Deep, Jazz Brazillia, HErbie Hancock, Chaka Khan, Jovonn, Bass & Penn, DJ Shine, Teknostep, The DHJ Project, Teddy G, Jask...
Solar House - The Roots Large Records
St Germain - So Flute (STP "Lucky 7 Remix) Blue Note
Altocamet - Valeria Del Mar (Deep Club Mix) Matter
Holland Tunnel & Lugo - Keep Your Head Up (Main Vocal Mix) Irma
Martin Solveig - The Heart Of Africa (Matty's Deep Dub) Mixture Stereophonic
Tropical Deep feat Jazz Brazillia - A Sax Solo Waako
Herbie Hahcock & Chaka Khan - The Essence (C. Opus Mix) Transparent Music
Jovonn - Mystic Soul Dance Tracks
Bass & Penn - Happiness (Nowhite Remix) Weekend Records
Solar House - Peace Of Mind Large
DJ Shine vs Teknostep - First Snow Nice + Smooth
Gene Hunt - Brazilian Nemesis Revenge (Flute Mix) Nite Life Collective
The DHJ Project - Your Spirit (Schmoov! Remix) DiY
Teddy G - Brazillia City Mix (MMatos Deep Mix) Glasgow Underground
Jask - Reflections Of Love Large
About this DJ mix / legal statement >>> All songs in this DJ mix are copyright of their respective owners. If you are one of these owners just contact us, and tell us if you want to be removed. This DJ mix is placed online without any commercial purpose but in favor of all true music lovers. It's all about top House music production. Download and 'Njoy!