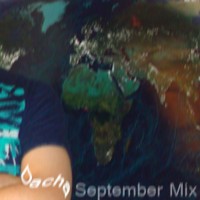 Once again I decided to mix one sensual, organic, deep & soulful DJ mix. It's starting with excellent track 3 strikes by Nicole Tyler & Sereo Mutnats and Fred Everything & Lisa Shaw - Here I Am! But that's just the begining, check it out: Stereo Mutants, Fred Everything feat Lisa Shaw, Samantha James, Alex Dimitri, Maxine Hardcastle, Abicah Soul Project, Conan Liquid, DJ Gomi, Enzyme Black, Knee Deep, Miguel Migs...
Stereo Mutants feat Nicole Tyler - 3 Strikes (Lounge Mix) Clubstar
Fred Everything feat Lisa Shaw - Here I Am (Shur-i-kan Vocal Mix) OM Records
Samantha James - Breathe You In (KJ's Soulful Mix) OM Records
Alex Dimitri - Look Out (Alex South Soul Main Mix) Gotta Keep Faith Records
Maxine Hardcastle - It's Gonna Happen (Wesley Clarke Remix) Hed Kandi America
Key To Life feat Kathleen Murphy - Find Our Way (Muthafunkaz Found A Dub Mix) Sub-Urban
Abicah Soul Project - Abicah Soul (Main Mix) Wha? Roots Recordings
Conan Liquid - Keys Of Time Time Records
DJ Gomi feat Louie Balo & Yasmeen - Glad I Found You (Scott Wozniak Vocal Remix) Blaze Imprints
Enzyme Black - I Can See The Light 4th Floor Records
Kneedeep feat Cathy Batistessa - All About Love Kneedeep Recordings
Miguel Migs - Let Me Be (Miguel Migs Petalpusher Vocal) Salted Music
MJ Cole feat Laura Vane - Watertight (Original) Prolific Recordings
Joyful Noise - From The Ground To The Sky (Rufuss Mix) Qalomota Records
About this DJ mix / legal statement >>> All songs in this DJ mix are copyright of their respective owners. If you are one of these owners just contact us, and tell us if you want to be removed. This DJ mix is placed online without any commercial purpose but in favor of all true music lovers. It's all about top House music production. Download and 'Njoy!