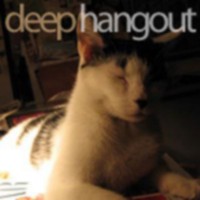 Well, this one is a little bit longer and totally deep. About 2 and half hours of deep goodness ideal for deep hangout(s) after parties and chilling. It's jazzy, funky but also deep and sometimes even dark and crazy tech house. Blue Six, Nacho Marco, The Rurals, Shawn Ward, Julius Papp, Charles Spencer, Tonee Green, The Craftsmen, Deep 6 Syndicate, Catalan FC, Sven Love, Paris Gilbert, Ananda Project, Hanna Hais, Da Funk, Afrodrops, Mike Acetate, Carlos Gibbs, Roy Davis Jr, Jamie Anderson, Da Sunlounge, DJ Deep, Franck Roger, Panyard, Tam Cooper, Jihad Muhammad, Kinky Movement, Toka Project, Shrewd, JT Donaldson, Late Night Society, Studio Apartment, Abicah Soul Pr, Ben Westbeech...
Studio - Lifes A Beach (Todd Terje'S House Mix) Information
Blue Six - Tropicalia (Jay's Bahia Vocal Mix) Naked Music Recordings
Nacho Marco - Wench (Francois Dubois Remix) Freerange Records
The Rurals - Sweet Butterfly Peng
Shawn Ward - Jazzy Dream Underground Garage Hits
Julius Papp & Charles Spencer feat Tonee Green - Keep It Going (Fanatix Remix) City Deep Music
The Craftsmen - Feel The Beat Greenhouse Recordings
Deep 6 Syndicate - On And On (Hustlin Mix) Strobe Records
Catalan FC & Sven Löve feat Paris Gilbert - Real Love Kif Recordings
Ananda Project - Universal Love (Jay-J's Shifted Up Mix) Nite Grooves
Hanna Haïs - Bel Amant (Matthias 'Matty' Heilbronn's Soulflower Album Mix) Atal
Da Funk - Dig Dis Acryl Music
Afrodrops - Nice Cream (Demarkus Lewis Deez Fingerlicking Remix) Blacksoul Music
Mike Acetate & Carlos Gibbs feat Roy Davis Jr. - Jus Move (Original Mix) Deep House Project
Jamie Anderson - Oceanic Artform
Da Sunlounge - Love You Long Time Bambino Recordings
DJ Deep & Franck Roger feat Panyard - Solitude City Deep Music
Tam Cooper - Galactica (Jimpster Remix) Simple Records
Jihad Muhammad - The Rush (Main Mix) Asante Records
Kinky Movement - Peaker Amenti Music
Digital Villains - Busted Speaker (Original Mix) Jackin Tracks
Toka-Project - I Gotta Go Robsoul Recordings
Shrewd - Sounds Good To Me (Pushin' Boundaries Mix) Flavor Recordings
JT Donaldson - Just Bounce (Slum Science "I'm 'Avin That" Remix) Hudd Traxx
Late Night Society - 147 Bump Greenhouse Recordings
Studio Apartment - Found Him New World Records
Ananda Project - Fireworks (Roots Music Mix) Nite Grooves
Abicah Soul Project - Feelin It (Arethas Mix) Abicah Soul Records
Ben Westbeech - Hang Around Brownswood Recordings
About this DJ mix / legal statement >>> All songs in this DJ mix are copyright of their respective owners. If you are one of these owners just contact us, and tell us if you want to be removed. This DJ mix is placed online without any commercial purpose but in favor of all true music lovers. It's all about top House music production. Download and 'Njoy!