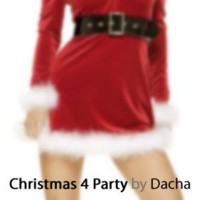 This one is must have! At the end of the year I selected and mixed some of the best tracks in one great party mix called '"Christmas 4 Party". 45 selected tracks in almost 3hrs long DJ mix. Sexy, groovy, all night long... Download right now! Johnny Fiasco, Nicolas Vautier feat Blick, Catalan FC & Sven Love, Timbalestics, Jason Howell, Wipe The Needle, Gabriel Black, Deep Josh, Da Funk, Bobby Magnifique...
Johnny Fiasco - Go Deep Control
Nicolas Vautier feat Blick - Sala (Ralf Gum GoGo Vocal Remix) Jaffa Music
Catalan FC & Sven Löve feat Paris Gilbert - Real Love Kif Recordings
Timbalestics - Meo Amor (Schwarz & Funk Deep Mix) Seamless Recordings
Ivan-I & Jason Howell feat Rootz - Blessed Dub BigCityBeats
Wipe The Needle - The Rhythm The Drum Deeply Rooted House
Gabriel Black - Keep Me Dancing Tangible Recordings
Deep Josh & Angel Piña - Movement (Original Mix) Soulfuric Deep
The Craftsmen - Feel The Beat Greenhouse Recordings
Da Funk - Her Digits Acryl Music
Joshua Heath - My Headphones Salted Music
Groove Junkies & Andy Caldwell feat Alexander Sky - I Believe In Dreams (Groove Junkies MoHo Vox) MoreHouse Records
Studio Apartment feat Monique Bingham - Found Him New World Records
Bobby Magnifique - Be My Number One (Bobbys Main Pass Mix) Abicah Soul Records
Craig Hamilton - Cant You See Me Yakuza Recordings
Johnny Fiasco - The Message Control Recordings
Groove Invaderz - Jungle Fever (Central Avenue Remix) Barcoda Recordings
Kinky Movement - Gotta Be Smart Replay Recordings
Louis Benedetti pres Gene Perez - Bottoms Up (Alternate Mix) Soulful Sessions
The Hoodfellas - 3 Way (Danny White Redid) Smoke City Music
Shovell - Drums Of Ghodrat (Louis Benedetti Da Drums) Defected
Hanna Haïs - Jungo (DJ Memê Remix) Atal
Bobby & Steve feat Pete Simpson - Time To Let Go (Bobby & Steve & Dave's Rio Workout) Zoo Groove Stereo
Da Funk - Dig Dis Acryl Music
Rhythm Plate - Remember The Days Winding Road Records
Joshua Heath - How It Should Be Salted Music
Soydan - We Got Game Yakuza
Physics feat Alexandra Hamnede - Let It Out (Vincent Kwok Mix) Seamless Recordings
DJ Memê - V.A.I. (Deep Josh Mix) Soulfuric Trax
Souldynamic feat Brent St Clair - Slow It Down (Central Avenue Dub) Barcoda
Kinky Movement - Illusions Drop Music
Davidson Ospina feat D'layna - Ladadi (Dada) (Main Mix) Spina Records
Rhythm Plate - Keep Moving Hudd Traxx
Mark Grant feat Dajae - Satisfaction (Soul Bounce Vocal) Blackstone
Tiger Stripes - Kayoko (Kiko Navarro's Tribute To L.G. Remix) ProgCity Deep
Djaimin feat Crystal Reclear & Buddah Monk - Change (Jamie Lewis Moody Mix) Purple Music
Vernon & Da Costa - Jazz Woman (Ion Edit) Odds & Ends Music
Digital Villains - Busted Speaker (Original Mix) Jackin Tracks
Deep 6 Syndicate - On And On (Hustlin Mix) Strobe Records
The Candy Dealers - Alabama Shrewd Music
Mood II Swing feat Tara J - Passing Time (Dub) Strictly Rhythm
Rita Quintero - Quiero Saber (Sterling Ensemble Mix) Deep Haven Music
Trackheadz feat Zaki - Feel (Mr V Vocal Mix) NRK Sound Division
Soularis - Closer (Original Mix) Seamless Recordings
Physics - It'S All Good (Matty Soulflower Mix) Seamless Recordings
About this DJ mix / legal statement >>> All songs in this DJ mix are copyright of their respective owners. If you are one of these owners just contact us, and tell us if you want to be removed. This DJ mix is placed online without any commercial purpose but in favor of all true music lovers. It's all about top House music production. Download and 'Njoy!