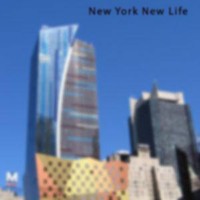 This is my first mix mixed in my new home country, home state, home city, New York City. You can feel strong NYC influence, Harder beats, deeper cutz, sometimes darker atmosphere, it's hard to live and make here! But, if you dig a little bit deeper in the music, you'll find that light of hope, that positive atmosphere that we're all looking for in this beautiful city. Since I didn't have time last year to input some new music, many artists were new to me on this mix. Check it out: Mr.V, Chuck Love, Bryan Adams, Brown Origami, Jazzy Eyewear, Juke Joint, Afromento...
Mr. V feat Miss Patty -

Da Bump (SOLE Channel Mix)

Vega Records
Chuck Love - Livin At Night OM Records
Bryan Jones - Chicago Jack (Scud Bloom's West Coast Dub) Control Recordings
Brown & Origami & Andrew Phelan - Don't Ever Stop (Brown Mix) Prismatic Tracks
Sean Dimitrie Feat Felicia Lee - Dr Doo Yoo (Fred Everything's Dr Thing Remix) Reverberations
Kinky Movement - Closer Drop Music
Jazzy Eyewear feat Del - Gotta Be Real (The Littlemen Remix) UMA Recordings
Iz & Diz - Magnificent (Original Extended Vocal) OM Records
Juke Joint - Summa Time (Main Mix) 83 West Records
Audio Soul Project feat Lori - Satellite (Fred Everything Remix) Urbantorque
Afromento - Amazonian XTC Blockheadz Recordingz
Roy Davis Jr & Mike Edge - Spring Love Amore
Urban Soul - Love Is (Tomo Peace Pipe Remix) King Street Sounds
About this DJ mix / legal statement >>> All songs in this DJ mix are copyright of their respective owners. If you are one of these owners just contact us, and tell us if you want to be removed. This DJ mix is placed online without any commercial purpose but in favor of all true music lovers. It's all about top House music production. Download and 'Njoy!