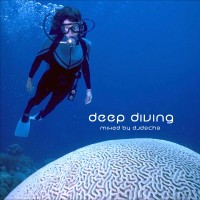 When I decided to 'dive' a bit into my collection and find some silky smooth jazzy nu-jazz soulful tracks for my new mix, I instantly decided to call it "Deep Diving". If you're looking for some soulful vocal house and maybe something for Valentine's Day, I think this one is for you. I'm happy to present some great artists here; Dimitri From Paris, Makus Enochson, Reel People, Kenny Carvajal, Stephanie Cooke, Hydro Sound System, Jason Herd...
Dimitri From Paris feat Victor Davies - This Is Your Life (Live Jazz MAW Long Version) Discograph
Markus Enochson feat Dallas - Follow Me (Vocal Mix) Vinyl Junkies
Reel People feat Vanessa Freeman - The Light (RP's Club Mix) Papa Records
Kenny Carvajal feat John Pierce - My Words (Original Glide Mix) Phuture Sole Recordings
Stephanie Cooke - Alright (Sir Piers Curious Vocal Mix) King Street Sounds
Hydroponic Sound System - Hydro Sound Clash (The JT Donaldson Remix) Icon Recordings
Jason Herd feat Abigail Bailey - Feelin' Love (Summer Vox) J:Soul Recordings
Matthias "Matty" Heilbronn feat Monique Bingham - Go Getter (Sensible House Mix) Papa Records
Groove Junkies pres Solara - Sunshine (Sol Brillante) (GJ's Nueva Soul Mix) More House
Jay-J Feat Latrice Barnett - Start It Up (Jay-J Original Mix) Bubble Soul
Miguel Migs feat Li'sha - Do It For You (Original Vocal) Salted Music
Ian Pooley feat Jade & Danielle - Heaven (Original Mix) Pooledmusic
Generous Flavour - Waiting (Soulmagic's Fine Dub) Swing City Records
Fred Everything feat Roy Davis - Next To Me (Movin' Vox) Bombay Records
B-Soul - My Way (B-Soul Remix) Poji Records
About this DJ mix / legal statement >>> All songs in this DJ mix are copyright of their respective owners. If you are one of these owners just contact us, and tell us if you want to be removed. This DJ mix is placed online without any commercial purpose but in favor of all true music lovers. It's all about top House music production. Download and 'Njoy!