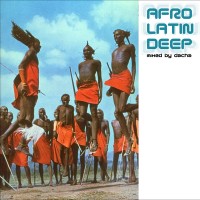 One of the most downloaded mix on my website, and (I think) one of the best mixes that I ever compiled and mixed. It was end of 2004 but it's still like new to me every time I hear it, and many other house music lovers tell the same, trust me. I cannot remember how many great parties we have had with this one. Yes, it's all about African, Brazilian, Latin house music, besides soulful and deep, my favorites house genres ! It's finally back online for good, enjoy! Richard Dormfmeister, Sin Palabras, Truby Trio, Sumo, E-man, Demarkus Lewis, Dennis Ferrer, Mateo & Matos...
Richard Dorfmeister - Valdemossa Sunshine Enterprises
Sin Palabras - Yemaya (John Beltran Mix) Yoruba Records
Trüby Trio feat Marcia Montez - Alegre 2004 (Louie Vega's Elements Of Life Mix) Compost Records
S.U.M.O. - Seduçao (Original Bounce) Bubble Soul
EMan - Slangin' (Marlon D's Organ Mix) Jellybean Soul
Demarkus Lewis - Parallels (Spanish Harlem Mix) Nordic Trax
Audiowhores feat Susana Montero - Orillas Del Mar (Original Vibe) Soulfuric Deep
Dennis Ferrer - Jero Defected
Mateo & Matos - A Life To Come Nitegrooves
Kokolo Afrobeat Orchestra - Mister Sinister (Faze Action Vocal Mix) Jamayka Recordings
Cirque Du Soleil - Emballa (Louie Vega Featuring Jaffa Album Mix) Cirque Du Soleil Musique
Sabrina Malheiros - Estacao Verao (Kenny Dope Original Twist Mix) Far Out Recordings
Francois K - Enlightenment (Original Mix) Wave Music
About this DJ mix / legal statement >>> All songs in this DJ mix are copyright of their respective owners. If you are one of these owners just contact us, and tell us if you want to be removed. This DJ mix is placed online without any commercial purpose but in favor of all true music lovers. It's all about top House music production. Download and 'Njoy!