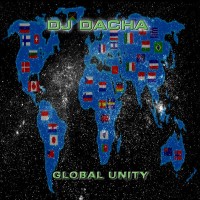 My second promo DJ mix was still inspired by some latest Tech, Garage, Disco, Progressive, Jackin', and some Funky & Jazzy House tracks. Looking at current world situation and racial diversity, message that I wanted to spread was very simple; We need Global World Unity! House music unites people, and that is what this mix is all about: Love, Respect, Dance and Happiness. Check it out right now, you'll find some great artists such as: Ministers De-La-Funk, Jocelyn Brown, Gordon Matthewman, Jose Nunez, Jamiroquai, Junior Sanchez, Dajae B, Kojak, Phats & Small, Robbie Rivera, Kluster, Disco Galaxy 4, Carl Cox, Cassius, Daddy's Favorite...
Ministres De-La-Funk feat Jocelyn Brown - Believe (Ministry Mix) Subliminal
Gordon Matthewman - Itza Thrumpet Thing (Pacha Disco Mix) XVX
Jose Nunez feat. OCTHÁVIA - In My Life (Da Dronez Dub) ZYX
Jamiroquai - Supersonic (Pete Heller The Love Mix) Work
Junior Sanchez feat Dajae B - With U (Rhythm Masters Remix) BIT
Kojak - Stupid Jack (Troublemen Remix) Pro-Zak Trax
Phats & Small - Tonite (Original Mix) Multiply
Robbie Rivera - First The Groove (Robbie's Original Mix) Duty Free
Kluster - Back To The Funk (Back To The Loop) Neo
Disco Galaxy 4 - 4 Phunkit' Up (Bootleg Mafia's) Bootleg
Carl Cox - Dr.Funk (Rhythm Masters Mix) Moonshine
Cassius - La Mouche (played live bu DJ Falcon) Virgin
Daddy's Favorite - I Feel Good Things For You (Original Mix) Go! Beat
About this DJ mix / legal statement >>> All songs in this DJ mix are copyright of their respective owners. If you are one of these owners just contact us, and tell us if you want to be removed. This DJ mix is placed online without any commercial purpose but in favor of all true music lovers. It's all about top House music production. Download and 'Njoy!