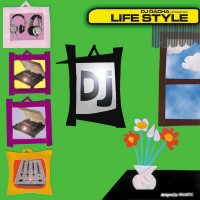 What takes to be a DJ? Well, besides your precious mixer, decks, headphones and fashion, good dance music is always number one that attracts crowd on the floor. For this one I prepared some of the best "cyber disco" tracks with a hint of tech and progressive house. There are a few artists that you will hear only here and probably never again, and that's one of the points. This is one future-tech disco DJ mix, if you like "faster music", this one is for you. I hope you'll enjoy discovering some great artists such as: Motel 6, Matthew Boone Vs. Discotexx, Scalawag, Master Blaster feat Antony DeMarco, Joe Negro feat Taka Boom, Mac Zimms, Robie Rivera, Olav Basoski, Wigwam, Bedlam, Eric Powell, Discotexx...
Motel 6 - Dizko Baby (Jeux Floraux Remix) Starlet
Matthew Boone Vs. Discotexx - Money Doesn't Grow On The Trees Lost Vegas
Scalawag - Rollin' Around Lupeca
Olav Basoski - Musica Work
Master Blaster feat Antony DeMarco - Everything You Are Bootleg
Olav Basoski - Down With It Work
Joe Negro feat Taka Boom - Must Be The Music (DJ Antonie Mix) Incentive
Mac Zimms - Build For Dancing Bango
Motel 6 - Dizko Baby (Alexander Purkart Meets The Plastik Park Remix) Starlet
Robie Rivera - There's Some Discofans Here Tonight (Jeff Roach Mix) Episode
Olav Basoski - Turn It Out Work
Wigwam - High Voltage NU-Tone
Bedlam - Da Force (Extended Mix) Playola
Eric Powell - Reach And Hugg (Langston Hugg Mix) Bush
Discotexx - Big Apple Jazz BCC
About this DJ mix / legal statement >>> All songs in this DJ mix are copyright of their respective owners. If you are one of these owners just contact us, and tell us if you want to be removed. This DJ mix is placed online without any commercial purpose but in favor of all true music lovers. It's all about top House music production. Download and 'Njoy!