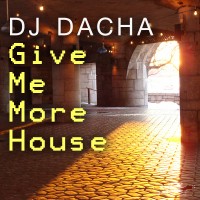 Hey house music headz, if you are looking for some more deepness, here's the new mix. This time I mixed strictly house music, back to roots! Dig here and you'll find some great artists; Cosmic Beets, At One feat. Wyoma, Love & Light, Eman & Doc Link, Deep Inc feat. Stee Downes, Jovon, Flapjackers, Chanson E, DJ Steaw, Mr. Pickle, Giovanni Ikome, SoulCreation feat. MISU, True2Life, Phil Kinley.
Cosmic Beets - Making Me Breathless (Original) Duma West
At One feat. Wyoma - African Healing Dance(Atjazz Remix) Atjazz Record Company
Love & Light - Pure Joy (Vocal) People That Make The Music
Eman & Doc Link - Harlem (DeepCitySoul Classic Mix) Liberate
Deep Inc feat.Stee Downes - Nothing Lasts Forever (Original Mix) Solid Ground Recordings
Jovonn - Blues House (Jovonn's Shakin Butt Mix) Room Control
Flapjackers - Picture Perfect (Mark Funk Remix) Dirty Monkey Recordings
Chanson E - Your Eyes (Alex Augello Remix) UMA Recordings
DJ Steaw - I Want Local Talk
Mr Pickle - Give Me More (Original Mix) Lepento Records
Giovanni Ikome - Losing Hand (G.Ikome D-Soul House Mix) Exemplary Music Makerz
SoulCreation feat. MISU - Sueno En Ti (Main Mix) deepa grooves
True2Life - Gee's Dream (Original) DRUM Records
Phil Kinley - Easy weekend (Cool & Phunky Cut) Manifold Records
Check out this DJ mix on:
HearThis
MixCloud
Odysee
Rumble
YouTube
About this DJ mix / legal statement >>> All songs in this DJ mix are copyright of their respective owners. If you are one of these owners just contact us, and tell us if you want to be removed. This DJ mix is placed online without any commercial purpose but in favor of all true music lovers. It's all about top House music production. Download and 'Njoy!