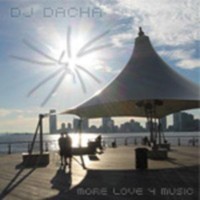 I just wanted to mix deep, tech, sexy, latin, tribal, disco, funky, garage and few other genres in 80 minutes DJ mix. There are so many new artists and tracks coming every day, but some selection has to be done and here it is: Black Joy, Triangle Orchestra, Fish Go Deep, DJ Garphie, 2 Brothers of Soul, Deep House Soldiers. Francesco Diaz, Bonny Ferrer, Deep Josh, Franco De Mulero, Muzzaik, DJ Circle, Simon Green, Swirl People feat Heather, Unit Blue, The Rurals & Zlatan !...
Black Joy - Black Joy Freerange Records
Triangle Orchestra - Where's The Tape? Imperial Dub Recordings
Fish Go Deep - Esl Ork Recordings
DJ Garphie - The Music (Say It With a Kick Mix) Think! House Music
2 Brothers Of Soul Feat Aqeel 72 - Holidays (Nu Viaje) (Main Mix) Delecto Recordings
Deep House Soldiers - Live It Up (Original Mix) Swank Recordings
Francesco Diaz feat Bonny Ferrer - Life Is Too Short (Sergio Flores Synthetic Dub) Musica Diaz Senorita
Deep Josh & Franco De Mulero feat Harmony Brown - More Love 4 Music (Vocal Mix) The Applefunk
Muzzaik - The Night's Already Started (Orignial Mix) Lip Recordings
DJ Circle feat Simon Green - Had Enough (Stereo Mutants Acid Dub) Tricircle Recording Group
Swirl People feat Heather - When I Think Of You (Dub Cut) Aroma
Unit Blue - Costa Latina (Ibiza Mix) Planet Inspiration
The Rurals - Red Kickers Peng
Zlatan Feat The Voice Of Saskia - The One (Zlatan's Classic Instrumental Mix) Promo
About this DJ mix / legal statement >>> All songs in this DJ mix are copyright of their respective owners. If you are one of these owners just contact us, and tell us if you want to be removed. This DJ mix is placed online without any commercial purpose but in favor of all true music lovers. It's all about top House music production. Download and 'Njoy!