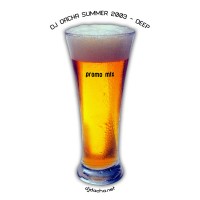 Looking for a little bit "deeper" summer DJ mix? I got this one too. Same edition like Summer Lounge but this one is with great tech sounds, electro-funk, deep, darker, dirty house ans with some electronic vibes. I hope you'll enjoy this one too. Check it out, some artists; Phil Weeks, Glenn Underground, Demarkus Lewis, Mazi, 4 Hero, Miguel Migs, P'taah...
Phil Weeks - It Put Me Well (Fred Everything Remix) Brique Rouge
Tiefschwarz - Acid Soul Classic
DJ Gregory - Attends Muve Recordings
Glenn Underground - Black Action Shelter Records
Weekender - Weekenderstyle Naked Music Recordings
4 Hero - Hold It Down (Bugz In The Attic Co-Operative Mix) Talkin' Loud
Demarkus Lewis - Dance The Night Away Grab Recordings
Mazi feat Ron Carroll - This Feeling XMAG
Korben Dallas - All This Music Sense Music
Afro-Mystik - Natural (Kaskade's Roots Mix) OM Records
J & S Productions - The Lift Part (Lance Desardi Mix) Court Square Recordings
Nigel Hayes - Moving On (Blacksoul Freakfunk Dub) Sunshine Enterprises
Magik Johnson - Rollergirl (Magik J's Kingsland Mix) NRK Sound Division
Missything - Lick Shots (Vox by Fred Everything) Not On Label
Joshua - Work It Out Tweekin Records
Miguel Migs - Laptop Excursion NRK Sound Division
Index - Ojeras Violetas Stimulus
Blue Six - Come Inside Naked Music Recordings
P'Taah - Hold You Close Naked Music Recordings
Dave Warrin - Man Child Astralwerks
About this DJ mix / legal statement >>> All songs in this DJ mix are copyright of their respective owners. If you are one of these owners just contact us, and tell us if you want to be removed. This DJ mix is placed online without any commercial purpose but in favor of all true music lovers. It's all about top House music production. Download and 'Njoy!