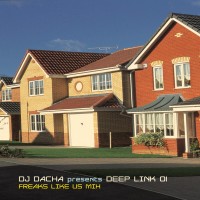 What about one deeper funk-jazzy-soulful DJ mix? You're in? Well, I got some nice selected house tracks, mixed for your precious moments, when you wanna dance. There is a little bit of everything, enough for one party mix or maybe good mix for the car, mp3 player, more parties too... You can feel Chris Lum & Jay-J influence right away, but I got some other cats here: Hanna, Eddie Matos, D&H, Audio Soul Project, Llorca & Lady Bird, David Harness, Tropical Deep, Naomi, Mettle Music and more...
Hanna - Time (Doza's LawnChair Generals mix) Viva!
Alicia Keys - Troubles (Jay J & Chris Lum Moultown Studios Mix 1) J Records
Inland Knights - Everybody Drop Music
Eddie Matos - Toby's Groove Vista Recordings
Chris Lum - Can We Get Connected? Nightshift Recordings
Dizzy & Halo - The 3rd World Doubledown Recordings
Audio Soul Project - New Plateau (Chris Lum's Moulton Studios Dub) NRK Sound Division
Llorca & Lady Bird - My Precious Thing (Pooley's Vocal Mix) F Communications
Moogroove - Bonga (World Mix) Twisted America Records
Jay-J & Chris Lum - Freaks Like Us Multi Tracked
Jay-J - Smoke It Up (Original Mix) After Hours
Tropical Deep Project - 1st Time Feeling (DJ Alex J African Mix) ZYX Music
DJ Alex J - Deep Inside The Soul Promo
Mettle Music - Swell Toko Records
Naomi - Avenue L'Amour (Juan Da Silva Rmx) Mole Listening Pearls
Johnny Fiasco - Take Five OM Records
Johnny Fiasco - Jazzmatic OM Records
About this DJ mix / legal statement >>> All songs in this DJ mix are copyright of their respective owners. If you are one of these owners just contact us, and tell us if you want to be removed. This DJ mix is placed online without any commercial purpose but in favor of all true music lovers. It's all about top House music production. Download and 'Njoy!