Page 5 of 10
THE VERY FIRST RADIO GIG > RADIO DANUBE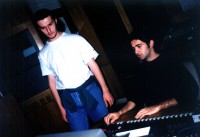 In 1994, I was invited to play music at the first urban radio station in Novi Sad called Radio Danube. Head music editor Vladimir Mušicki invited me to join his new crew of people that will change the music climate on this radio station. Even with this change their program was nothing great, but that was my only chance to play some good house music on the radio, my only chance to get "in the game". And, accepted the offer. When you have a chance for something that you wanna do, and you really want it, just grab it, go for it!
Since Radio Danube was a mainstream commercial radio privately owned by city's lottery company, they were only interested in commercial radio program that will bring larger audience, so they can advertise their lottery tickets and games to even more people. Basically every third or fourth commercial that we played between the music was for the lottery, very boring stuff indeed. I knew that they need to make money, but you can still make money and not be a greedy at the same time.
It was very hard for me to fit in there easily, my music taste was totally different, I wanted to push some boundaries, play something new for the listeners through the daily shifts, but that wasn't "appropriate" for Mušicki and management of the radio. So, they gave me night shifts, which nobody at the time wanted, and I was very excited and happy about it. Nights are perfect for house music, and I could also smoke on the radio since nobody besides me was there at beginning of my shows.
And, nobody from the management even bothered to listen to my program, so I basically have had a lot of freedom to do what I wanted, and that was it, my first radio show is born! Later, more and more of my radio buddies would hang out with me in my night sessions, it was one of my best times on live radio. Music that I played was underestimated for daily program policy, despite the fact that these actual music tracks were voted out (by thrilled listeners) to be hits of the week, or even a hit of the year in radio's daily program. Music that I played at night shifts finally started to infiltrate daily shifts too which was great for hungry listeners, but not so for the management.
In no time there were problems with the Head Office, my idea of modern radio program and new music was totally different than theirs, and I wouldn't stop because I knew very well what I was doing and how progress works. Together with some of my creative friends, we made a gathered decision to find some other radio station where fresh ideas and progressive music are top priority. We wanted implementation of higher standards of radio production and we wanted freedom.
SECOND RADIO > RADIO SPIN
It was 1996 when I decided to leave Radio Danube and to find some other radio station that will give me space to promote modern electronic music. Luckily for me and few of my collages that also wanted better working conditions (freedom), we were asked to come and play our music on smaller but still perspective radio station called Radio SPIN.
This radio station worked in the past with no success, their concept was already seen and it wasn't modern or successful. After all disastrous variations of rock, post-rock, neo-rock, pop-rock and some other music from the past, they finally realized that they need to call people who created best program from Radio Danube, they called us.
Look I don't have anything against good pop and rock music, but as everything else music is evolving and progressing to something new, something else than Deep Purple or AC/DC. And, if you are truly music listener and lover, you would know what's new, what's hip, what's good for urban radio station. I was totally fine for them to play that at home, after all, taste is taste, but as an music editor on the radio, you have to be current. So, we took the charge and changed things, all different from now.
The best city DJ selection under one roof
Shortly after, progressive and fresh musical genres started spreading with more and more listeners recognizing the old crew which have changed the broadcasting frequency, but not their music style! At the time, my title progress to Head Music Editor and I took that power to recognize and assemble the team of high-quality-sound lovers. Best city DJs and electronic music producers were first to get time slots for their excellent shows. We took the city radio again! Finally!
THE VERY FIRST CLUB > CONTRAST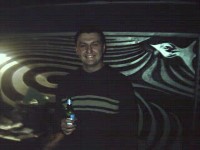 As soon as we started again with our radio program and we continued with our shows, my sound and music choice were instantly recognized again by the clubbers and local crowd. What was more important, I've been recognized by the club managers and owners. I got my first DJ residency in one and only Underground Club CONTRAST after having just one rehearsing gig. I was more than ready to play my music choice to the real clubbers for the first time for real. I remembered that rainy night when I first time visited this legendary club, and now I'm gonna play in it ?!? Dream came true.
What was so special about the Contrast? I would put it like this: What was Studio 54 or Paradise Garage for New York, that was Contrast for Novi Sad. This was the only club in the city that was supporting club music from all over the world, it was a smaller, but great great club. You could hear and dance on all kinds of music here; from trance to techno, some old funk and rock to disco, but when I was resident DJ there mainstream was only best underground House Music. This club were equipped with the best speakers in the city, Bose bass tubes on the roof to kick you in the brain, not to destroy your kidneys!
Since most of the clubbers and visitors already knew me through my radio shows, I was lucky to play actually what I and crowd wanted to hear, and they would respond on my music selection very well. But when real hit-us-hard clubbers were in the club and when night is right, I would push some fresh material, something deeper that I loved the most. I remember working hard, I would usually spin for a four days a week (Thu to Sun) and on some nights when the crowd gets hot and steamy, I would play long six to eight hours sets, until the morning sun shows on club ceilings. After we close the club with the owner, we would go together to eat something, and finally sleep. That time is for many clubbers labeled as "golden age of Contrast", and I know exactly why!
One radio down, SPIN is OUT
While I was working and focusing on recent start of my DJ career, SPIN radio suddenly goes off-air due to dispute amongst co-owners. One of the owners literally plugged out mixpult from the studio in the middle of the program. We didn't play any role in this ending, it was like a storm that you can't predict or avoid, but maybe it was a time for a long needed break for me, to clear the things up. After this closure things were changed for me and my homies, now it was well known who are the people who will create good club life in the future. We got our names out and mine was one of them, but the only thing that was always missing is more money.