Page 4 of 10
New city - Novi Sad
Upon my return from the army in 1993, I made a decision to change my life completely and I moved to a new city. Since my dearest friend Vlada Radojević was already living and studying in the city of Novi Sad, I decided to visit him and stay in Novi Sad for one night. And, it took me only one rainy night in Novi Sad to start planning how to move and live here. It's not that I like rain that much, it's what happened that night.
First time in Paradiso
My plan was to visit some nice club or venue where we could stay til the morning sun when I would go and catch the first bus for Belgrade. Bret, it was a rainy Thursday night and we went to the closest and biggest disco club in the city Paradiso, and it was a bummer. Place was big and great for parties, equipped with loud and good sound, and they had excellent light equipment. However, that night we experienced small crowd with a few drunks, not to much to see and music was shit. Since this was our only place to go on pouring rain, we stayed there for some time until Vlada mentioned one other place to go called Contrast Club. Place was far away without car and we didn't know if it's working, but it was worth checking it. I didn't even imagine possibility that I'll become a DJ, and that this club will be my residence club in the near future.
First time in Contrast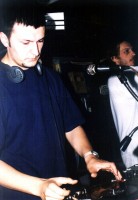 When we finally got there after a long walk, we saw just a few people coming in, but we knew that it was a good sign when we heard excellent loud music already at the front of the club. When we got inside, we realized that we hit the jackpot, we were in the middle of fashion show with all those sexy models, great crowd and super good music. This party progressively continued after fashion show, and we were banging until we could see morning lights on club's ceiling windows. That was a night to remember and to think about, and I did. On my way to Belgrade and my army base, I was only thinking how I'm gonna move to Novi Sad as soon as I'm done with my army days. Yes, I've been into some shit at the end, but amazingly, I was released on schedule!
Novi Sad
As I planned, as soon as I finished with army, I packed my belongings and I moved from my childhood hometown Smederevo to Novi Sad. Everything was totally new to me and I spent some good time just to adopt on totally new and mellow mentality, and multicultural environment, which I liked the most. We have had the worst inflation at the time in our country, I couldn't choose worse time to move, but somehow I managed to stay on the ground.
As soon as I moved to Novi Sad, I contacted Miroslav Stanić who was, before I went to army, one of my major music "provider". I didn't know him personally, but I did knew from our phone calls that he shared with me same drive and passion for new music and new audio/video technology. After couple of months, I secured position in his studio in digital audio production department. Magic Box was the best equipped multimedia studio in the city and even around, probably the only company that was in touch with the development of new video production technologies, and also already popular 3D rendering. Nowadays they're focused on film and movie production and they probably have new name, but at the time that was the place to be for me.
First DJ steps
Since we have had Technics 1210 turntables and professional DJ mixer in Magic Box studio, I decided to spend some times playing with it. With a little help of my friend DJ Dejan Matić, I learned some basic DJ skills. He was at the time resident DJ in Paradiso discotheque and we always enjoyed listening to fresh vinyls first, as soon as it arrives. I learned how to find pitch on my next track, and then when and how to mix it with the current "live" track. I remember how I enjoyed that creative moment for the first time when you actually creating something new combining two existing tracks. It was simply amazing and I wanted to do more DJing, but this time in the front of the crowd! But, before I start my DJ career, I was also involved in some other creative things.
First multimedia projects
Besides my music related jobs, I also worked in Magic Box studio in audio production department on many interesting multimedia projects and videos amongst which the project of artistic association APSOLUTNO undoubtedly stands out. Working in this studio also gave me an opportunity to meet some local people from radio broadcasting industry. I always wanted to work on radio station and to play music for others, that was probably my oldest sphere of interest. It was very simple, all I wanted is to play and listen to some good house music, and if others liked my selection, that's even better, that's fucking great!