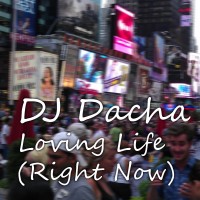 Here I'm back again with one excellent soulful-deep house DJ mix. If you into vocal and deep music, here is the one to keep. It's all sexy, soulful and you can feel that deepness on each track, so here we go, shout for: Soul Lady C, Mickey K, Soulful Session & Joanne Clarke-Gordon, RiskSoundSystem & Marc Evans, Alex Millet & Troy Denari, YSE & Frank H. Carter III, Nativeroots & Zano
, Sterling Ensemble & Troy Murray, Matthew Bandy & Josh Milan, Danny Clark, Jay Benham & Jocelyn Mathieu, Ondagroove, KPD & Myri Mouse, Ron Allen & Chach, Samson Lewis, JedSet & Robina, Cofano & Troby w Nicole Mitchell, DJ Dealer & RaShaan Houston, Cloud 9, SOL Element & Dimi Stuff.
Length: 1 hr 24 min
Release date: 12 May 2013
Remastered: 2015
DJ Dacha - Loving Life (Right Now)

DJ DACHA presents
Loving Life (Right Now)
DeepLink Promo Mix Vol.74
About this DJ mix / legal statement >>> All songs in this DJ mix are copyright of their respective owners. If you are one of these owners just contact us, and tell us if you want to be removed. This DJ mix is placed online without any commercial purpose but in favor of all true music lovers. It's all about top House music production. Download and 'Njoy!