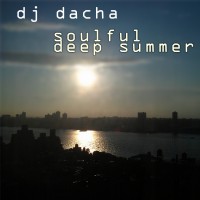 Here is one DJ mix for hot summer days and crazy summer nights. I carefully selected and mixed some of the best easy-going house music tracks for this summer 2012. It's starting slowly with Osunlade's great mixes for Marbert Rocel and Miguel Migs feat Meshell Ngegeocello, and then it all goes for a moment to instrumental with great It's Only Just A Garden mix from Chanan Hanspal. Then, it comes the summer anthem Remember from Jet, Zt.d. Ready for more? Here it comes: Nicolas Bassi, DJN Project, Sonny Foondera, The Littlemen, Sen Skalski, Pete Rivera, Flapjackers, M-Swift feat Angela Johnson, Ralph Session feat Greg Serenade, Clemens Rumpf & David A. Tobin, Henrique Pirai, DJ Steaw, Nigel Hayes, Joe Rizla.
Length: 1 hr 48 min
Release date: 1 September 2012
Remastered: 2015
DJ Dacha - Soulful Deep Summer

DJ DACHA presents
Soulful Deep Summer
DeepLink Promo Mix Vol.66
DJ Dacha - Soulful Deep Summer - DL066 by Oldacha on Mixcloud
About this DJ mix / legal statement >>> All songs in this DJ mix are copyright of their respective owners. If you are one of these owners just contact us, and tell us if you want to be removed. This DJ mix is placed online without any commercial purpose but in favor of all true music lovers. It's all about top House music production. Download and 'Njoy!