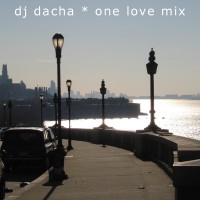 For the end of this summer 2012 I decided to drop down 2hrs mix for all of you deep-soulful house music lovers and myself. I did spent few weeks to select and buy some of the most interesting deep, tech, soulful house music production, and I hope you gonna like it. As usual, I like to promote new producers and new names, but you'll also find some well known hit makers here too. Check out some of the artists presented on the mix: RubberLips & Charmaine, DJ Steaw, Paul Key, Andy Soul feat Matthew Yates, Mistura, Deep City Soul, Non Stop featMr Mann, Stephen Rigmaiden, Kobretti feat Roz Brown, DJ Le Baron & Deepvoice, Mirco Esposito, Tommy Mads, Andrew Robinson, Colin Sales & S.U.Z.Y, Thelma Houston, Roberto De Carlo, Mirco Esposito, Colin Corvez, DJ Le Baron & Heidi Vogel, Syb, Tres Gueros feat Anne Montone, Yakka, Mister Bigfoot feat Paolo Romano & Francesco Lomangino.
Length: 1 hr 53 min
Release date: 27 September 2012
Remastered: 2015

DJ DACHA presents
One Love Mix
DeepLink Promo Mix Vol.67
DJ Dacha - One Love Mix - DL067 by Oldacha on Mixcloud
About this DJ mix / legal statement >>> All songs in this DJ mix are copyright of their respective owners. If you are one of these owners just contact us, and tell us if you want to be removed. This DJ mix is placed online without any commercial purpose but in favor of all true music lovers. It's all about top House music production. Download and 'Njoy!