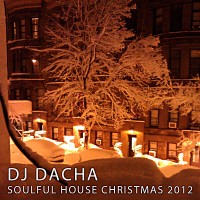 I dropped some beats and vocals in this mix preparing it for the Christmas 2012, I hope you gonna like it. It's 100% soulful and deep house so be prepared for some stunning vocals and real singing. It wasn't hard to find these great tracks, production is gettin hotter and hotter these days ;) So, If you love deep soulful house, this one is for you, check it out: UC Beatz, Soulfeenix feat. Janyssha Lyon, Ree Morris, Deep Xcape feat. Oscar, Groove Assassin, Kenny Bobien, Ananda Project & Kai Martin, The House Inspectors, Mojito feat. MJ White, Alex Ander, SoulBasics feat. Kyla Sexton, Audiowhores, Steven Stone & Marc Evans, Robert Owens, Reel People & Omar, Gee.
Length: 1 hr 30 min
Release date: 8 December 2012
Remastered: 2015
DJ Dacha - Soulful House Christmas 2012

DJ DACHA presents
Soulful House Christmas 2012
DeepLink Promo Mix Vol.69
DJ Dacha - Soulful House Christmas 2012 - DL069 by Oldacha on Mixcloud
About this DJ mix / legal statement >>> All songs in this DJ mix are copyright of their respective owners. If you are one of these owners just contact us, and tell us if you want to be removed. This DJ mix is placed online without any commercial purpose but in favor of all true music lovers. It's all about top House music production. Download and 'Njoy!