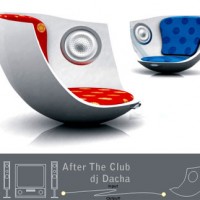 After nice clubbing night imagine yourself in that space chair, press play and your mind is gone far away, you think that you're sleeping but... This is one deep, soulful, tech house DJ mix, radio show. You will get chance to meet again: Tommy Bones, Eddie Matos, Bang Bang, DJ Fudge, Souldynamic feat Brent St Clair, Gabriel Black, Samantha James, Soul Deep Collective, Bobby Magnifique, Demarkus Lewis feat John Griffin, Kinky Movement...
01 TOMMY BONES - After The Club [REAL TONE]
02 EDDIE MATOS - In The Morning [VITAL VIBES]
03 BANG BANG - Prison Of Attraction (Littlemen Mix) [SHREWD]
04 DJ FUDGE - My Definition Of House (Original Mix) [SSOH]
05 SOULDYNAMIC feat BRENT St CLAIR - Slow It Down (Central Avenue Dub) [BARCODA]
06 GABRIEL BLACK - Keep Me Dancing [TANGIBLE RECORDINGS]
07 SAMANTHA JAMES - Deep Suprise (Miguel Migs Remix) [OM]
08 SOUL DEEP COLLECTIVE - Fire In My Soul (Johnny Fiasco's Flame On Mix) [INTEGRITY AUSTRALIA]
09 BOBBY MAGNIFIQUE - Be My Number One (Bobby's Main Pass Mix) [ABICAH SOUL]
10 DEMARKUS LEWIS feat JOHN GRIFFIN - Tell Me Why (Deez Rework) [SLIP'N SLIDE]
11 KINKY MOVEMENT - Illusions [DROP MUSIC]
About this DJ mix / legal statement >>> All songs in this DJ mix are copyright of their respective owners. If you are one of these owners just contact us, and tell us if you want to be removed. This DJ mix is placed online without any commercial purpose but in favor of all true music lovers. It's all about top House music production. Download and 'Njoy!